Coal-rich city eyes green economy
By Zhu Zheand Sun Ruisheng (China Daily)
2012-03-22 08:13
| | |
| --- | --- |
| | |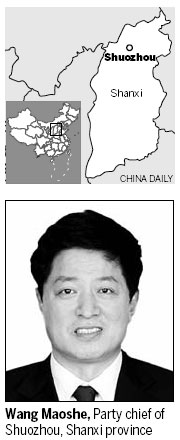 Twenty-three years ago, there was no city named Shuozhou in China.
In the mid-1980s, former Chinese leader Deng Xiaoping met with Armand Hammer, a US industrialist and founder of Occidental Petroleum, and decided to set up one of China's first joint ventures here in North China's Shanxi province.
Since then, the region has been world-known for its coal production, and the joint project, Antaibu, the country's biggest open-pit coal mine, is considered a milestone in China's opening-up.
The city of Shuozhou was born in 1989. Last year, it produced 186 million tons of coal, about 20 percent of the total in Shanxi, a major powerhouse of China.
More than 20 years of massive coal exploration has brought the city wealth, but has also taken a toll on its environment, leaving huge piles of coal waste and causing sandstorms.
"Coal excavation brings soil erosion and destroys forests, and we don't want that. We want the city to be green, to be a good place to live," said Wang Maoshe, Party chief of Shuozhou, who was in Beijing for the National People's Congress this month.
Consequently, planting trees has been high on the city government's agenda, he said.
Since the late 2000s, Shuozhou has invested about 1 billion yuan ($158 million) a year to plant 22,000 hectares of forest, an area about 25 percent larger than Washington, DC.
Now, 35 percent of the city area is green, and Wang has an ambitious plan to increase that area by 2 percentage points a year.
It is no easy task, considering the harsh natural conditions and huge investment.
Shuozhou, situated near the Ordos Desert, sees an annual average temperature of 6.4 C and has limited rainfall, about 450 mm a year. Last year, Beijing had about 720 mm of precipitation, according to the China Meteorological Administration.
"So we plant mostly Mongolian pines, which easily adapt to sandy soil, and we've successfully brought water from the Yellow River through diversion channels," Wang said.
As for the 1 billion yuan annual investment, Wang said about one-third is from the provincial or city government, one-third from the district government and one-third from enterprises, especially coal mine companies.
"One tree for 1 ton of coal, that's our requirement for coal mines," he said. "Coal exploration hurts the environment, so it has to pay the price."
The city is also going green by making better use of the coal waste.
About 20 percent of each ton of raw coal excavated is waste, or gangue. In the past, the gangue was thought to be worthless, local officials said.
But Shuozhou has found that with advanced technology, gangue can be processed for use in generating power, Wang said.
The city now produces 36 million tons of coal gangue a year, almost all of which could be used to generate electricity. That provides a power generation capacity of 2.67 million kWh, the largest amount of all cities in China, according to figures from the city government.
After power generation, coal and coal gangue turn into coal ash, which was also thought to be useless in the past. But the ash contains metals, including alumina and silica, which can be extracted.
To make better use of coal ash, an industrial park, focusing primarily on processing coal ash, is under construction.
To diversify its economy, the city is vigorously developing non-coal industries, such as agriculture and animal husbandry. Among the planned projects to be launched before 2016, about 70 percent are not related to coal, according to the city government.
"Shuozhou was born for coal, but coal should not be the only key word for it," Wang said.
"Instead, it should be a natural, green, modern and happy home for our 1.8 million residents."
Contact the writers at zhuzhe@chinadaily.com.cn and sunruisheng@chinadaily.com.cn
(China Daily 03/22/2012 page4)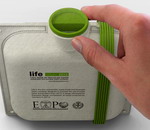 An Italian designer, Andrea Ponti, designed a recycled paper-made water container for the Milano Expo 2015, according to yankodesign.com.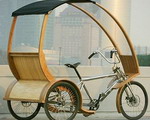 The Bamboo treecycle developed by MGT Engineering Ltd is on dispay at the 21th China Int'l Bicycle and Motor Fair.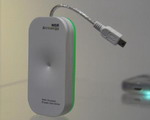 A US electronics company invented a charger that draws its power from Wifi signals.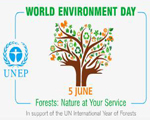 World Environment Day is an annual event that is aimed at being the biggest and most widely celebrated global day for positive environmental action. The theme this year is Forests: Nature At Your Service.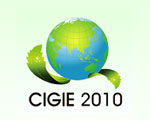 The China International Green Industry Expo 2010 (CIGIE 2010) is an important international green industry exhibition hosted by the Chinese government and held at the Beijing Exhibition Center, Nov 24 to 27.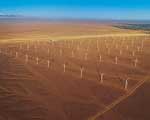 China Wind Power 2010 is the largest and most important international wind power conference and exhibition in China.