YUEYANG, Hunan - In stained work clothes and gloves covered in thick oil, Zhang Jianshe does not fit the usual image of a beautician. Yet, it is often the way he describes his job.
"I'm cleansing the face of a lake," said the 54-year-old, whose own face has been left tanned and wrinkled by the hours spent on a boat under the hot sun.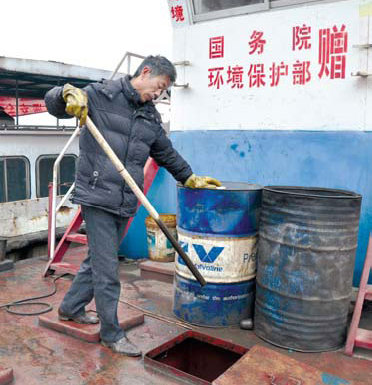 Zhang Jianshe checks the level of recycled waste diesel on his boat on Dongting Lake in Hunan on Jan 17. Liu Xiangrui / China Daily
A fisherman by trade, Zhang has been collecting waste diesel from boats on Dongting Lake in Hunan province since 2003, a practice that has prevented thousands of gallons of oil from being dumped into the water.
He first realized there was a problem when slick patches started to appear on the lake's surface and on fishing nets. Yet, it was not until his income fell to 20,000 yuan ($3,100) in 2002, the lowest in 13 years, that he decided to do something about it.
"I knew things would just get worse if no one took care of this," said Zhang, who after research found that only a few vessels on the lake were equipped with diesel recycling facilities and there were hardly any specialized organizations to turn to.
According to Zhang's estimates, a vessel with a deadweight of 50 tons can generate 50 kilograms of waste diesel every year. At the time, this was being thrown overboard by workers when they cleaned the decks.
"As a fisherman, I didn't know where to start for a long time," he recalled.
Eventually, Zhang found a company in Nanjing, capital of Jiangsu province, that was recycling waste oil and spent a month with them to learn their techniques.
When he returned home to Yueyang, he successfully applied to authorities for permission to recycle waste oil on Dongting Lake during the off-season, both to protect the environment and earn more money for his family.
He poured 100,000 yuan into the business and borrowed another 50,000 yuan to refit his boat. He also recalled his two sons in Guangdong province to lend a hand.
"The equipment allows us to only collect waste diesel from boat cabins. The thin oil on the lake's surface is way too costly (to collect) or simply impossible for us to recycle," Zhang said.
Some boat owners were reluctant to cooperate at first. "The only way was to persuade people through patience," said the fisherman, who often bought rice, fish and cigarettes as gifts to win potential customers.
Zhang said he followed a dredger for three days in 2004 and had to beg several times before he was allowed aboard to collect the waste oil. He was even bitten by a dog the second time.
"But it was worth it," he said with a smile. "I collected more than 5 tons of waste diesel."
However, a good haul of oil did not guarantee good profits, and for the first three years the business lost about 100,000 yuan.
"My brother and I had to turn to salvaging scrap metal to support the family and make up the losses from my father's business," said Zhang Ming, 27, the fisherman's youngest son. "We often worked long hours. It was the hardest time for us.
"Salvaging was actually more profitable, and all my family wanted my father to give up recycling oil, but he simply refused."
Instead, Zhang Jianshe invested even more money to upgrade his equipment. He added: "I keep telling myself that each ton I collected is a ton that will not end up in our mother lake."
Records show he has collected roughly 1,000 tons of waste oil, about 100 tons a year on average, according to Li Jianxian at Yueyang's environmental protection bureau.
"It's hard to imagine what the consequences would have been if so much oil had been poured into the lake," he said, adding that his bureau now asks Zhang for advice in dealing with leaks and spills.
Over time, Zhang's operation has begun to make a profit, mainly due to the increase in prices for waste oil offered by refineries.
"Now many boat operators call me," said the businessman, who has added another two more boats to his fleet.
His work has also been recognized by authorities, such as the Ministry of Environmental Protection, which in 2007 named him one of the "10 Green Guards of China".
In the future, Zhang hopes to form a volunteer team to help with his recycling efforts.
"The situation is worsening because the number and size of boats on the lake are growing so rapidly," he said. "I can only recycle a small fraction alone."
Feng Zhiwei in Changsha contributed to this story.