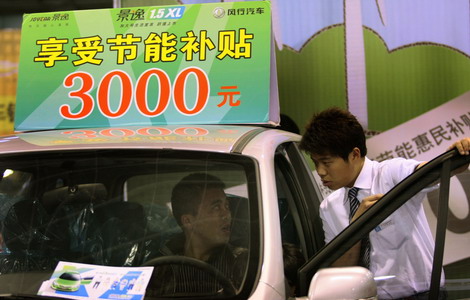 A salesman explains energy-saving vehicle subsidies to a customer in an auto market in Nanjing, Jiangsu province. The government has disbursed 12 billion yuan ($1.88 billion) subsidies for 2.51 million energy-saving cars. [Photo / China Daily]
Government planning changes to standards required for subsidies
BEIJING - The threshold for subsidies on fuel-saving vehicles in China will be raised on Oct 1, the Ministry of Finance (MOF) said on Friday, further extending efforts to reduce emissions in the world's largest auto market.
A statement on the website of the MOF said that the gas consumption standards necessary to meet the requirements for a 3,000 yuan ($470) purchase subsidy have been adapted in line with technical specifications.
For example, the fuel consumption standard for cars weighing between 1.2 and 1.32 tons will be lowered to 6.3 liters or less for each 100 kilometers, compared with the previous level of 6.9 liters.
The new rules will also reduce the 16 original vehicle weight categories to seven classes, while implementing a coherent standard of 6.7 liters for all cars weighing more than 1.32 tons.
It is estimated that more than 70 percent of the current 427 fuel-saving models will no longer be eligible for the subsidies.
China started to distribute subsidies to qualified automobiles with engines of 1.6-liter or smaller in June 2010, as part of an effort to fulfill the country's goal of cutting emissions for each unit of GDP unit by 45 percent by 2020.
Xiang Dihai, an official with the MOF's economic construction department, recently told a forum in Tianjin that the policies had achieved remarkable results in encouraging sales of fuel-saving vehicles.
According to Xiang, the government has disbursed 12 billion yuan in subsidies for 2.51 million energy-saving cars, driving 210 billion yuan of sales while helping to save 710,000 tons of fuel.
"Auto demand in the next five years will continue to grow, and the level of subsidies for fuel-saving cars will also evolve in accordance with technical progress," Xiang said.
"A mature market should mainly rely on innovation from automotive manufacturers, while the government's support is just guidance," he added.
However, Xu Changming, a researcher with the State Information Center under the National Development and Reform Commission, said the new rules would have a negative effect on the growth of China's auto market, which is currently at a 10-year low.
At present, market growth is as low as 3 percent, compared with 32 percent in 2010. "Growth may even come to a standstill if the subsidies are removed," Xu said.
"If sales continue to fall, the government will lose much more in tax revenues from the auto-related industries than it saves with the MOF's new policy," he said.
Cui Dongshu, deputy secretary-general of the China Passenger Car Association, said domestic car makers would be hit harder, because their products are more price-sensitive. Meanwhile, approximately 80 to 90 percent of products will fail to meet the new standard.
"Although the new rule is a way to push technical innovation, some manufacturers may consider reducing production of energy-saving vehicles," Cui said.