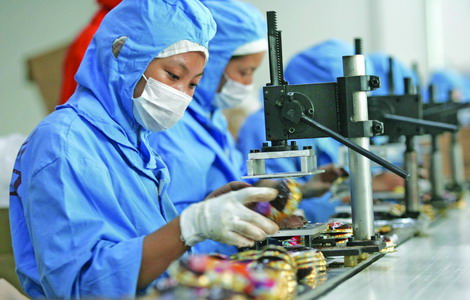 A chocolate factory in Nantong, Jiangsu province. Chinese manufacturers are upgrading their equipment to gain an edge in competition and reduce energy consumption. [Photo / China Daily] 
China determined to upgrade its machinery and improve environment
SHANGHAI - The old-fashioned machines in the factory of Jinbiao Woolen and Textile Mills Co Ltd in an underdeveloped county in southern Jiangsu province whirl and grind all day, churning out reams and reams of cheap cloth to supply the many garment makers in the region.
Workers toil in the heat and noise inside the grim workshop that conjures up images of Dickensian conditions and William Blake's "dark, satanic mills." A middle-aged mechanic in sweat-stained undershirt and shorts walks from machine to machine listening for any unusual groans from the aging gears and belts that can presage trouble.
Although China has been experiencing rapid economic growth during recent years, it is still falling behind in terms of productivity.
While Japanese textile workers are busy pressing buttons on computerized machines and increasing production by leaps and bounds, some of their Chinese counterparts are sweating in workshops without air-conditioning, using the sort of machines that disappeared from Japanese factories about 20 years ago.
It is a gap that the Chinese government intends to close.
On July, 19, the State Council approved a comprehensive work plan to conserve energy and reduce emissions during the 12th Five-Year Plan (2011-2015) period. The aim of the plan is to save energy by eliminating inefficient methods and establishing advanced production facilities.
The robust growth of environmental-protection companies is the most convincing proof of rising support for the government's policy. Some five companies, led by Zhejiang Fuchunjiang Environmental Thermoelectric Co Ltd - which specializes in the generation of electricity and heat steam through waste products - saw their shares rise by more than 5 percent on the day the work plan was approved.
By contrast, the Shanghai Stock Exchange Composite Index fell 0.7 percent to 2796.98 points on the same day. Since then, Zhejiang Fuchunjiang shares fell to close at 18.30 yuan ($2.86) on July 25, down 5.57 percent, while the index dropped a total of 2.96 percent over the same period.
About a week before the work plan was approved, the Ministry of Industry and Information Technology (MIIT) came up with a list of production lines and facilities that must be withdrawn from service by the end of the year. The list covers some 2,255 companies from 18 industries, with the focus on eliminating backward production facilities in heavy industries such as iron manufacturing and cement production.
Two eastern coastal provinces, Jiangsu and Zhejiang, have been leaders in terms of Chinese economic growth in recent years. But that fact doesn't necessarily indicate that they have no outdated factories or production methods. As China's two major textile-manufacturing areas, their focus will be mainly on eliminating old-fashioned machinery and methods.
Among the 66 production facilities that need to be eliminated in Jiangsu, seven are related to the textile industry, while in Zhejiang 17 of 74 outmoded factories are textile companies.
Although the national government is resolute, some local companies are turning a blind eye to the MIIT list.
Jiangsu Jinbiao Woolen Textiles, based in the city of Jintan in southern Jiangsu province, must eliminate about 50 machines according to the list - that's equal to annual production of more than 10 million meters of woolen textiles. However, two weeks after the publication of the list, the company claimed it was unaware of the MIIT requirements.
"The company is running smoothly. None of the machines you have mentioned is being replaced," said Mao Xiaozhong, a sales manager for the company.
That attitude may be confined to small companies, though. Their larger counterparts are much more likely to introduce the sophisticated machinery that will help boost productivity.
Having started from scratch in 1998, Ling Lanfang is now chairman of Silk Road Holdings Group Co Ltd, a leading manufacturer of Chinese silk, which is based in northern Zhejiang's Huzhou city and has annual sales of 1.8 billion yuan.
Ling's motto, "I will still buy new machines even if I have to sell my underwear", may be designed to amuse, but it may also account for much of his success.
"It means that the new machines weigh way more than my self-esteem," he laughed.
Although China is the biggest textile manufacturer globally,its textile industry, as Ling sees it, still faces two deadly failings. The first is low productivity and the second, the exhaustion of resources.
The first part of the silk-making procedure involves the use of an iron-grinding machine, which prepares the raw materials for further combing into the silk fibers. Despite having no Western examples to emulate, Silk Road has managed to improve the machines already in service, and has increased annual productivity to 4 tons for each worker, overtaking the single annual ton made by its Japanese counterparts and the company's previous capacity of less than 1 ton.
Even leading companies such as Silk Road are still dependent on these machines, which date from the 1990s. However, Silk Road will wave goodbye to the noisy and non-computerised machines by the end of the year and new technologically advanced machines will take their place.
"We bought the machines for 5,000 yuan each some 20 years ago. We will only be able to sell them for 3,000 yuan each at the most. However, the new computerized machines will cost us 500,000 yuan each," said Ling.
"It is a lot of money, but it's worth the investment. With the new machines, the productivity of each worker will be increased 20-fold annually, because each employee will take charge of a greater number of machines that run at faster speeds. Meanwhile, the quality of the products will also be improved and the employees will work in a more comfortable environment with less humming and buzzing," he said.
"But it is a great challenge for small companies. Higher productivity requires greater stocks of raw materials. If the company stocks more materials worth some 1 million yuan, it will shoulder an extra risk of about 20 million yuan," added Ling.
But the risk is worth taking, especially for companies wishing to compete in the domestic market.
"Actually, the requirements laid down by the MIIT are quite low. If one had to score 60 out of 100 to get a pass in an exam, most of the production facilities we are being required to eliminate would only score 20 ... seriously," said Ling.