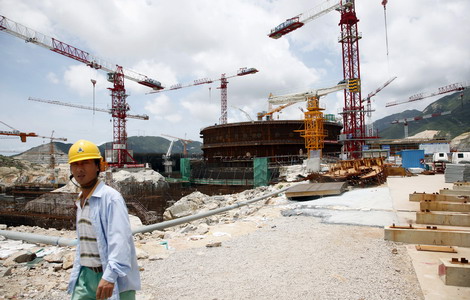 A worker walks by a nuclear power plant in Taishan, Guangdong province. China completed a nationwide safety inspection of its nuclear power plants on Aug 5. [Photo / Bloomberg] 
BEIJING - China concluded a nationwide safety inspection of nuclear plants on Aug 5 in the wake of Japan's nuclear crisis, indicating that the country is advancing closer to the resumption of approvals for new nuclear plants, according to a website notice by the China Nuclear Energy Association on Thursday.
On April 15, the inspection group, which consisted of the National Nuclear Safety Administration (NNSA), the National Energy Administration and China Earthquake Administration, started a national safety check on nuclear plants that are under construction and in operation, according to the notice.
The safety inspection was expected to last for six months.
China suspended approvals of new nuclear plants on March 16 following Japan's Fukushima nuclear incident caused by a devastating tsunami.
"The inspection, which was completed at least one month earlier than expected, could be an indication that China has no major safety issue in its current plants," said Xiao Xinjian, industry expert at the Energy Research Institute of the National Development and Reform Commission.
A possible concern may be over the first reactor China has ever built at the Qinshan Nuclear Power Station. It went into operation in 1991 and is scheduled to shut down in 2020, the expert said.
China is likely to issue a safety plan at the end of this month, after which, the country will resume nuclear plant approvals, Lin Chengge, former deputy director of the NNSA, told China Daily earlier.
Results of the inspection will be provided to the government for a review on safety improvements, Lin said.
These results will also serve as the basis for China to adjust its nuclear development program, though experts expected no dramatic change of the plan.
The country had a total of 10.82 gigawatts (gW) of nuclear capacity at the end of last year.
China is capable of adding 12 gW of nuclear capacity in the near term, experts said.
The Chinese government should aim to maintain its 2020 target of achieving 40 gW, according to Kevin Tu, a senior energy expert at the Carnegie Endowment for International Peace, a Washington-based think tank.
On Aug 7, a new unit of the Ling'ao Nuclear Power Plant at Dayawan in Shenzhen began commercial operation. Dayawan is China's largest nuclear power base.
China will not waver in its determination to develop nuclear power, Vice-Premier Zhang Dejiang said during a visit to the China Institute of Atomic Energy on April 14.
As China attaches more focus on the safety of nuclear technology, it is likely to adopt the third-generation AP 1000 technology developed by US-based Westinghouse Electric Co in its future plants.
According to Westinghouse, the first reactor vessel had arrived at the Sanmen Nuclear Power Plant in China's Zhejiang province at the end of July.