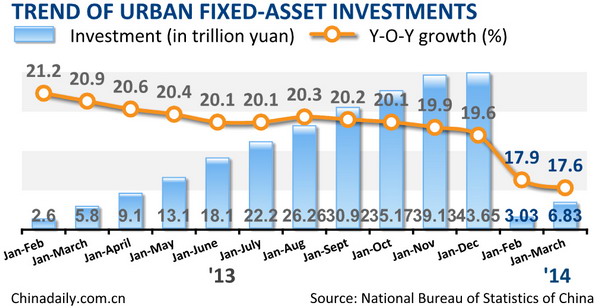 BEIJING -- China's urban fixed asset investment rose 17.6 percent year on year to 6.8322 trillion yuan ($1.11 trillion) in the first quarter of 2014, the National Bureau of Statistics (NBS) said on Wednesday.
The growth marked a further slowdown from the 17.9-percent rate recorded by the NBS for the first two months.
Investment in property development climbed 16.8 percent, retreating 2.5 percentage points from the rate seen in January and February.
"The slowing property investments have pushed down fixed-asset spending by 0.7 percentage points," said NBS spokesman Sheng Laiyun at a press conference.
Zhang Zhiwei, chief China economist with Japan's Nomura Securities, said the slower investment was the major factor driving down broader growth during the period.
NBS data showed that China's economy grew 7.4 percent in the first three months, marking the lowest quarterly pace since the third quarter of 2012.
Sheng said although investments have retreated, consumption has contributed an increasing amount to growth.
In breakdown, investment in primary industry grew 25.8 percent, while that in secondary and tertiary industries expanded by 14.7 percent and 19.6 percent, respectively.
Investment in the nation's central regions witnessed the fastest growth of 20.2 percent, followed by 19.1 percent in the west and 16.4 percent in the country's east.
The investment data came as the government is seeking to boost infrastructure spending to support faltering growth.
The State Council earlier this month announced a set of policies to facilitate shanty-town renovation and speed up railway construction in an apparent attempt to stimulate growth.
Projects in the two areas will jointly drive investments amounting to over one trillion yuan, according to analysts.