Chinese exporters will continue to face increasing trade frictions in the second half of 2013 and in 2014 amid escalating trade protectionism moves and an uncertain economic recovery, said a report released on Monday by PricewaterhouseCoopers China.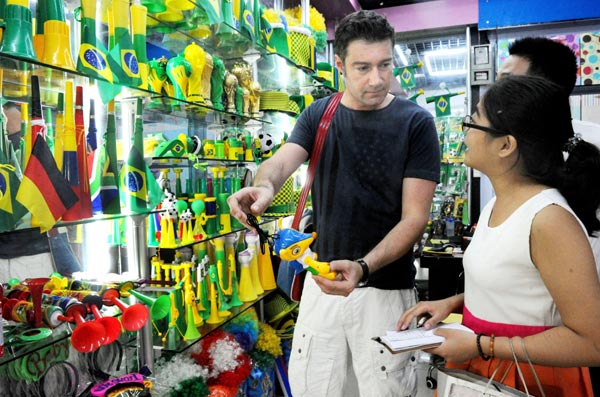 A Brazilian businessman examines sports memorabilia in Yiwu, Zhejiang province, for the 2014 World Cup, to be held in Brazil. PwC says that China will likely experience increasing trade friction from other emerging countries, such as Mexico, Brazil and India. Zhang Jiancheng / for China Daily
Regarding the prospect of trade remedy cases targeting Chinese exporters, Damon Paling, trade and customs partner at PwC China, told China Daily that there's an increase in the overall (trade-remedy) cases, not just the frequency of cases.
"And the second trend is that we probably see increasing trade friction from emerging countries, such as Mexico, Brazil and India," he added.
China was the most-frequent target of trade remedy investigations in the past 17 years. In the first half of this year, China was hit by a total of 39 trade remedy investigations from 15 countries and regions, which "dented China's efforts to further expand its foreign trade", Xu Shaoshi, minister of the National Development and Reform Commission, China's top economic planning body, said in late August.
Xu added that the foundations of the global economic recovery are "still very fragile" with a sluggish recovery in developed economies and slow growth in emerging ones, which strengthened protectionist moves in trade and investment.
In 2012, 21 countries launched 77 trade remedy investigations against China with the total amount involved at about $27.7 billion. This was an increase of 11.6 percent year-on-year in the number of investigations and an increase of 369 percent in value compared with 2011, according to the Ministry of Commerce.
Overall trade in the world's second-largest economy rose 6.2 percent year-on-year in 2012.
"The rapid rise in disputes with emerging market economies has posed a threat to China's economy," the PwC report said.
Last year, emerging market countries launched 54 trade remedy probes against China, accounting for 70.1 percent of the total investigations.