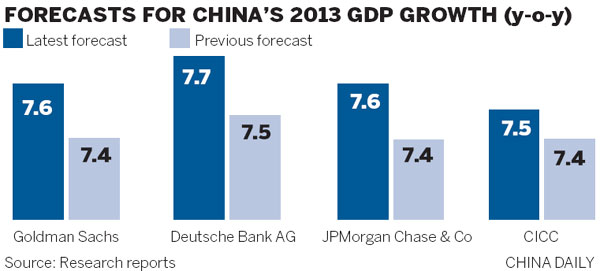 China's economic growth is expected to pick up to 8 percent by the fourth quarter after a slowdown in the first half of 2013, the Organization for Economic Cooperation and Development said on Tuesday in its latest assessment.
"Growth in China has seemingly passed the trough and looks set to recover further in the second half of this year," said Jorgen Elmeskov, the OECD's deputy chief economist.
China's low inflation provides scope to ease monetary policy if needed, but strong credit growth suggests the need for caution, he added.
Elmeskov also emphasized the need for deeper structural reforms in China to maintain stable growth.
"The investment rate has come down and other demand components need to take up the slack. To achieve that, structural reform is needed.
"For example, financial and social welfare reforms can help alleviate the problems of savings, and reforms of State-owned enterprises can provide the government with revenues other than taxes," he said.
The Chinese economy has shown signs of recovering, with the manufacturing Purchasing Managers' Index reaching a 16-month high in August, according to a report over the weekend.
In response to encouraging economic data in August, many investment banks and economists have raised their growth forecasts for China's economy.
For example, China International Capital Corp lifted its full-year forecast to 7.5 percent from 7.4 percent previously.
Premier Li Keqiang said on Tuesday at the China-ASEAN forum in Nanning, Guangxi Zhuang autonomous region, that the country is capable of achieving this year's 7.5 percent growth target.
Responding to the government's reassuring message, Chinese stocks rose 1.2 percent on Tuesday to a 10-week high, with the Shanghai Composite Index closing at 2,123.11 points.
Economists have expressed optimism about China's economic prospects for the rest of the year.
Chang Jian, an economist in China with Barclays Capital, said that economic growth in the third quarter is likely to be faster than in the second, based on the August and July manufacturing PMI readings, supported by a policy shift to "stabilizing growth" since July.
Growth momentum may be getting a boost from the lagged impact of rapid credit expansion in the first half, along with recent measures to accelerate railway investment and construction of subsidized housing, she said.
But some economists warned of uncertainties in external demand and financial pressure on enterprises caused by the cautious monetary stance of the Chinese central bank.
"External demand has very limited space to further increase as it is hard for the developed countries to achieve faster growth in the coming months, compared with the better-than-expected performance in the second quarter," said Peng Wensheng, chief economist at CICC.
Moreover, the central bank is maintaining a cautious posture on monetary policy and continuing tight supervision of the "shadow banking" system and local debt, which may increase financing pressure on the government, he added.
In its latest economic assessment report, the OECD also warned about financial instability and capital outflows in emerging economies, partly triggered by an expected tapering of the United States Federal Reserve Board's quantitative easing.
"Countries that have relied heavily on portfolio inflows to finance large current-account deficits will be the most vulnerable," Elmeskov said.