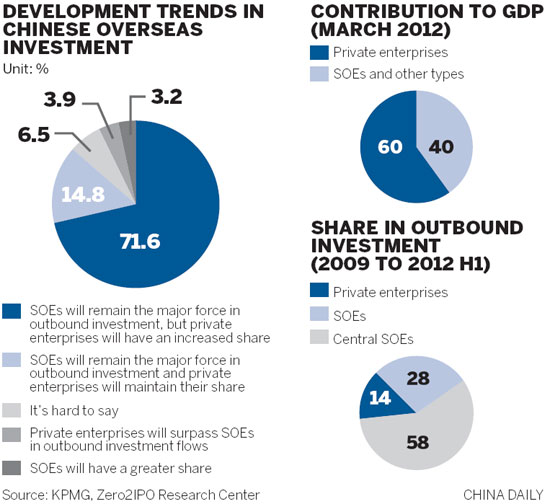 Increasing number of Chinese companies spreading their wings abroad, especially in
Europe
and Africa
China's private businesses are poised to take a more dominant position on the world stage. Until recently state-owned enterprises have been at the vanguard of the world's second-largest economy's moves into international markets, particularly in resources and raw materials.
But already in the first six months of this year, four of China's top 10 outbound M&A deals have been by private companies, compared with just one during the same period last year.
The most high profile of these is perhaps Shuanghui International Holdings' $4.7 billion (3.5 billion euros) proposed acquisition of Smithfield Foods of the United States in May.
According to a new report by international business adviser KPMG, The Dream Goes On: Rethinking China's Globalization, which will be published in English soon, some 75 percent of respondents predicted major international advances for China's private businesses over the next five to 10 years.
According to the report, within three years, a third of private companies will set up an overseas sales network, around a quarter will establish offices abroad and about 15 percent will establish factories overseas.