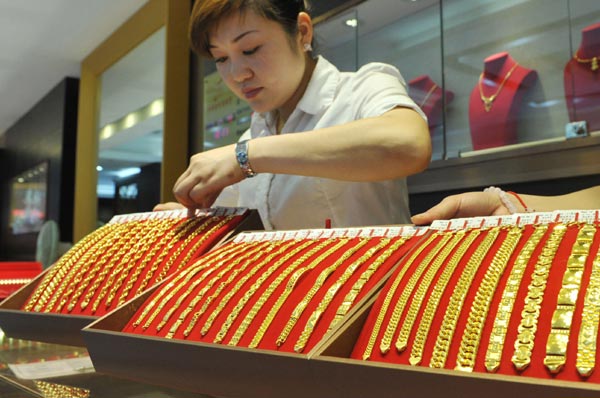 In the first half of this year, China's gold purchase surged by 54 percent year-on-year to 706.36 metric tons, according to the China Gold Association. Hu Jianhuan / for China Daily
China's gold consumption rocketed by 54 percent in the first half of 2013 despite a bearish market globally, putting the country on track to become the top bullion consumer this year.
The China Gold Association said on Monday the country's first-half gold consumption reached 706.36 metric tons, up 53.7 percent year-on-year. Growth accelerated from the 26 percent recorded in the first quarter.
Purchases in 2012 were 832 tons for the entire year.
More than 70 percent of first-half consumption depended on imports because the gold output of China, the world's largest bullion producer, was only 192.82 tons in the first six months, 8.9 percent more than a year before.
Net imports into the Chinese mainland more than doubled in the first half to 493 tons, from about 239 tons a year ago, according to Bloomberg calculations based on Hong Kong customs data.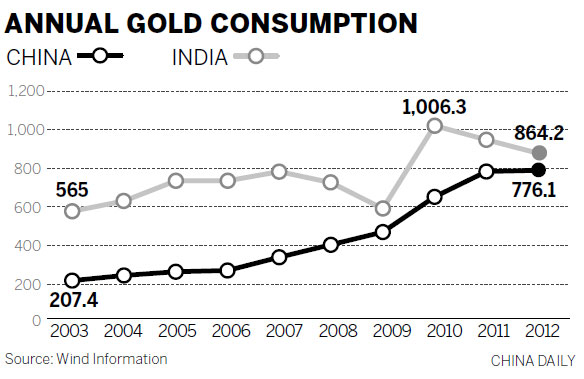 The strong growth this year was mainly supported by a surge in gold-bar and jewelry purchases, which gained 87 percent and 44 percent respectively, the China Gold Association said. The two together accounted for more than 90 percent of the total gold consumption in the first half.
But in the meantime, industrial use shrank by 1.6 percent.