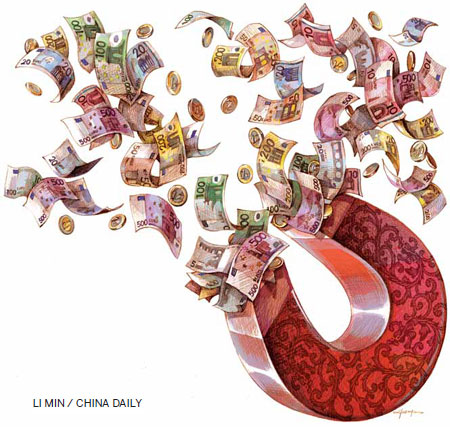 [Photo/China Daily]
Europe
an companies see new chances in China to expand
With the growth of total foreign direct investment in China falling off, the biggest waves of capital inflow may have passed. But the waves still come. Only now, they tend to be smaller or medium-sized and come roaring in from Europe.
Many expected FDI in China to continue to fall this year, after dropping 3.7 percent year-on-year to $111.72 billion in 2012, but investment from the European Union climbed 30 percent to $2.47 billion in the first four months.
In the first half of this year, foreign investors established 10,630 companies in China, down 9.18 percent year-on-year, while total FDI inflow rose 4.9 percent year-on-year to $61.98 billion, according to the Ministry of Commerce.
The investment surge from the EU is being called the new wave of capital migration and is being ridden largely by small and medium-sized enterprises that have positioned themselves at the head of niche businesses.

"It marks Europe's third wave of overseas investment," Piter de Jong, vice-chairman of the European Union Chamber of Commerce in China, told the South China Morning Post. "The first two waves were made some 20 to 30 years ago from, first, the state-owned enterprises and later big private corporations. Now it is the turn for SMEs."
SMEs recently looking to enter China include small autoparts suppliers, green technology firms and consumer goods distributors, and De Jong expects more to come.
Why they come varies from company to company, but it is now less to do with labor and operation costs and more to do with technological innovation and improvement.
Not so long ago, Thomas Pester, owner of Pester Pac Automation GmbH, a German packaging machine maker, would never have thought about expanding his 125-year-old family business to China, especially during difficult economic times.
Now he is building a new plant in Shanghai's Songjiang district, the only other plant outside his home market, to serve the pharmaceutical and cosmetics industries in China and neighboring countries.
"Every company must find out for itself when and why to invest," Pester says. "For us, a family-run business, it's quick and easy to make decisions."