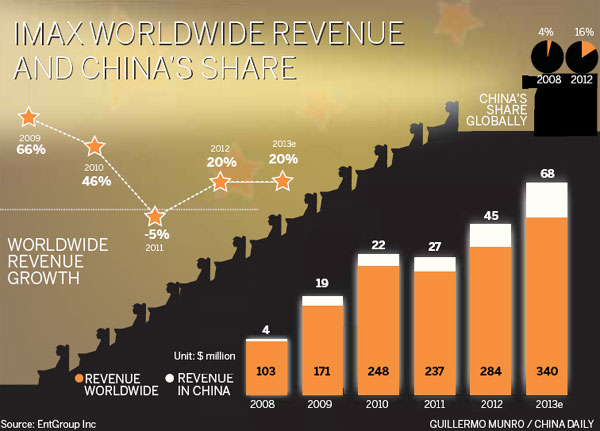 IMAX Corp, the world's leading giant-screen movie theater operator, and China's Wanda Cinema Line Corp on Thursday announced they will add 40 to 45 new IMAX theaters in China.
Under a revenue-sharing agreement reached in 2011, they agreed to build 75 IMAX cinemas.
Wanda's lease terms for all new IMAX theaters will be extended from 10 years to 12, according to the latest agreement. It brings the total number of IMAX cinemas owned by Wanda to up to 210, making the Chinese theater chain IMAX's largest exhibition partner internationally and biggest IMAX operator.
In addition, AMC Theaters, a United States cinema chain that was acquired by Wanda Cinema's parent, Dalian Wanda Group Corp Ltd, last year, has signed an agreement with IMAX Corp to extend its lease terms for all new and existing theaters to 13 years from 10.
It will install a minimum of five and up to 10 new IMAX theaters in the US, lifting AMC's total IMAX commitment to up to 152 cinemas. After the deal, AMC will be IMAX's largest exhibition partner in North America.
"The Wanda and AMC IMAX network continues to flourish and today's agreement underscores their ongoing confidence in IMAX to strengthen their businesses by delivering to audiences the industry's best cinematic experience," said Richard Gelfond, chief executive officer of IMAX Corp.
"Week after week, AMC guests are choosing to see their Hollywood blockbusters in an IMAX auditorium," said Gerry Lopez, chief executive officer and president of AMC Entertainment Holdings Inc.
"Wanda and AMC are two of the best IMAX theater operators in the world," said Gelfond.