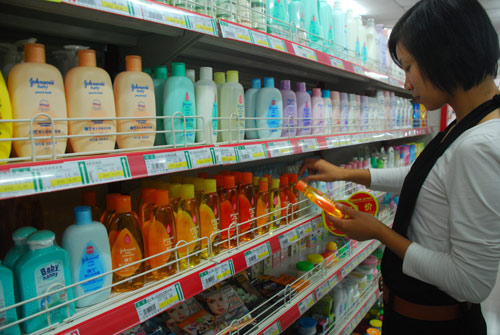 A woman chooses Johnson & Johnson baby shampoo at a supermarket in Taizhou, Zhejiang province. The Chinese market contributed nearly $2.5 billion to the company's total sales last year. [Jia Ce / For China Daily]
Global healthcare giant Johnson & Johnson will attach more importance to the Chinese market amid the expansion of the country's middle class and its aging population, the company's chief executive officer said on Wednesday.
"We would expect the growth in the Chinese market to be faster than in other regions in the world, driven by a number of things. One is, of course, the increasing middle class in China," Alex Gorsky, chairman and CEO of Johnson & Johnson, told China Daily at the Fortune Global Forum, which is being held in Chengdu from Thursday to Saturday.
Gorsky added that China's middle class could rise from 300 million to as much as 800 million people over the next several years. And as people become better off, their demand for healthcare products usually increases.
China's population is also aging, which is expected to boost consumption of such products, he added.
"Today, about 9 percent of the Chinese population is above 65 and the number is expected to go to 25 percent in the next 20 or 30 years, which will have a dramatic effect on healthcare demand," he said, adding that when people turn 65 they usually use about five or seven times more healthcare products than before.