Gaming industry opens a whole new chapter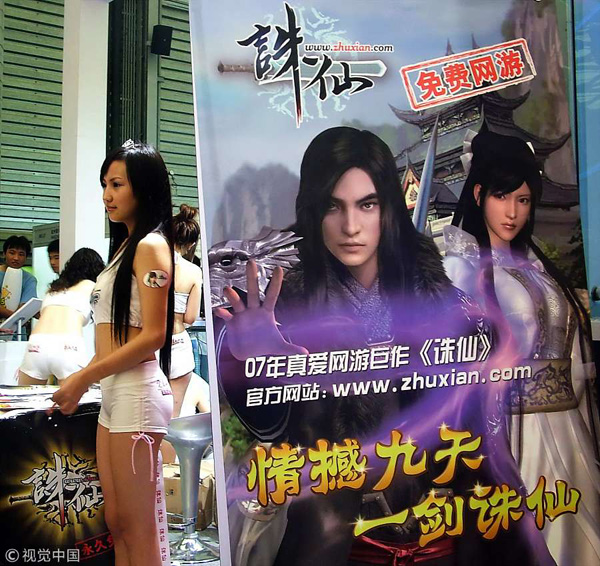 Online game Zhu Xian features in a gaming industry expo in Shanghai. [Photo/VCG]
Zhang Wenxiu loved reading Zhu Xian, or Jade Dynasty, the smash-hit supernatural novel which created a stir online.
The paralegal from Nanjing in Jiangsu province was then naturally excited when it was transformed into a mobile phone game, and he downloaded it as soon as it was released last year.
"This online game turns a static novel into a dynamic one, with three-dimensional plots and scenery," Zhang said.
Perfect World Co Ltd developed the historical epic where players compete to be immortal by completing tasks such as gaining access to a fairy castle.
"I can feel a sense of immersion when I play the game, especially since I have read the whole novel before several times," Zhang said.
The spinoff from online literature to games marks another step forward in intelligent property rights. This involves an array of industries such as films, games, animations and comics.
"Online literature has always been an important part of our entertainment strategy, which takes good IP products at its core," said Xiao Hong, chief executive officer of Perfect World.
The gaming industry environment has been revolutionized by the emergence of online literature.
For years, Perfect World used the IP rights to stories and transformed them into games or films. Now, its Zongheng.com site has become the biggest literary platform in China.
"We are trying to build a pan-entertainment ecosystem by bringing together worldwide cultural resources," said Xiao. "We are catering to consumers' fast-growing needs for entertainment and communication."
The integration of different cultural resources has injected fresh impetus into online games adapted from literature.
This in turn has created a mini virtual world where players can communicate with each other.
In terms of choosing online stories for the gaming community, Perfect World tends to go for popular works with strong storylines, such as supernatural sagas.
The Beijing-based company reported in March that revenue in 2016 jumped more than 25.9 percent to 6.16 billion yuan ($932 million). About 4.7 billion yuan was from the gaming sector.
Earlier this year, Perfect World co-developed Lie Huo Ru Ge, a kung fu fiction-based game, which was adapted from a novel and TV series.
"We will ink more cooperation agreements centered on IP for the gaming sector," Xiao said. "We want to produce more new products combining games and comics."