Even tea gets high-tech touch
By Shi Xiaofeng in Wuzhen, Zhejiang and Shi Jing in Shanghai | China Daily | Updated: 2016-11-17 07:25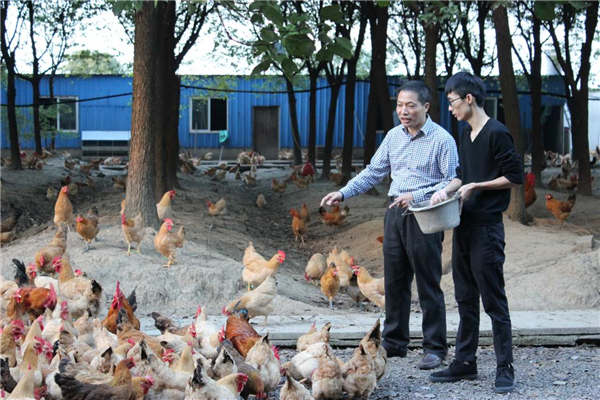 Zhu Fei (right) and his food company thrive thanks to a high-tech boost in Wuzhen. Provided To China Daily
While the internet has transformed Wuzhen from a once tranquil water town to a magnet for technology tycoons, it has also helped to upgrade and transform the traditional industries in the city.
Phoenix Tea House, located beside the renowned Xizha resort in Wuzhen, is one that has linked traditional industries with the most-advanced online technologies. Established in East China's Shandong province in June 2014, Phoenix Tea House moved to Wuzhen in Zhejiang province in October last year.
Serving tea is the very basic function of the teahouse. Its importance is growing, however, as a platform serving as an incubator for startups.
Office rooms and a registration address are offered for free. Operators of the teahouse also help startups to look for capital and even invest in some projects - up to a 5 percent stake.
A total of 33 companies have settled into Phoenix Tea House, 80 percent of which are from traditional industries.
According to Fu Jian, general manager of Phoenix Tea House, the biggest change they have brought to these traditional industries is a new business model.
"These companies used to produce first and think about sales later. But now consumers place the orders first and then companies produce. When orders grow, the size of production will increase accordingly. Consumers can also rest assured because everything is transparent and recorded," says Fu.
Haining Ding Xiang Food is another traditional operation that got a high-tech boost thanks to Phoenix Tea House.
Zhu Fei, 25, founded the company four months ago. The postgraduate student majoring in animal husbandry realized Chinese animal husbandry is "crying for transformation".
To ensure that his company stands out, Zhu offers a better breed of chicken, which grows more slowly for 150 days and matures to a smaller size.
Meanwhile, internet technologies provided by Phoenix Tea House have helped Zhu's company to install environmental sensors and cameras to cover the entire production process. Consumers can scan the QR code on the package and get a video record of the feeding, breeding, laying of eggs, hatching, brooding, free-range breeding, slaughter and packaging.
Under these circumstances, the prices of Ding Xiang's products are sure to be higher than others. The eggs are priced at 3 yuan (44 cents) each, or roughly 20 yuan per 500 grams, while the average price in the market is about 15 yuan per 500 grams. Chickens are sold for 158 yuan each, which is 50 percent higher than the average market price.
"As food safety has become the top priority of most consumers, our products, which can be traced throughout the entire process, will become extremely competitive in the market," says Zhu.
Zhejiang Huateng Animal Husbandry, the pork supplier for the first World Internet Conference and this year's G20 Summit in Hangzhou, is the first company that Phoenix Tea House worked with since the latter's move to Wuzhen.
Adopting an eco-friendly breeding mode introduced from Europe as a benchmark, Huateng has been a leader in offline sales. But when it started to explore the online market, Phoenix Tea House was the one to help install the sensor systems so that consumers could check out these traceable pork products.
Even though Huateng products' prices are 10 times higher than the market average, consumers have been showing growing interest in them. Sales in the first 10 months of this year were more than 10.34 million yuan, up 597 percent year-on-year, according to Zhang Hanmin, vice-general manager of Huateng.
"The annual total sales will reach 15 million yuan this year, with the profit hitting 1.9 million yuan. We expect total sales to come at 50 million yuan next year, with the profit reaching 6 million yuan," says Zhang.