Chip firm seeks to tap wider market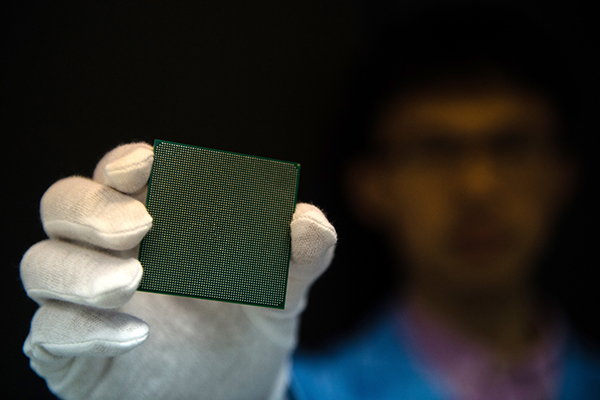 An engineer shows off a Sunway TaihuLight chip. The newly developed supercomputer powered by SW26010 processors is more than twice as powerful as the previous No 1 on June 20, 2016.[Photo/Xinhua]
The Chinese chip designer behind the world's fastest supercomputer is eyeing wider commercial application for its chips, as the artificial-intelligence boom is spurring demand for processors that can deliver supercomputing power.
The National High Performance IC Design Center (Shanghai), which designed the semiconductors to power the Sunway TaihuLight supercomputer, is in discussions with domestic companies about the use of its chips in artificial-intelligence-enabled products.
Yao Li, technical director at the IC design center, said: "We are in discussions with both internet heavyweights and State-owned enterprises about possible cooperation."
The Sunway TaihuLight supercomputer at the Chinese Supercomputing Center in Wuxi, Jiangsu province, is the world's fastest supercomputer as of June, according to TOP500, an organization that ranks the 500 most-powerful computer systems twice a year.
The machine, which is more than twice as powerful as the previous winner, is powered by SW26010 processors, designed by the Shanghai IC design center.
Previous winners often came with chips made by US companies, such as Intel Corp.
"But we developed a new architecture that enables our chips to deliver more capacity with low power consumption," said Yao.
According to him, the IC design center is now working on a new generation of processors to power China's next supercomputer, which is expected to run 10 times faster than the current fastest.
The center is part of China's efforts to reduce its reliance on foreign technology. In 2014, China spent more than $200 billion on importing chipsets-more than it spent on oil imports in the same period.
Security concerns are also prompting State-owned enterprises and local governments to embrace homegrown IT products.
Separately, in addition to developing a new generation of supercomputer chips every three to five years, the Shanghai center also makes tailor-made chips for the military and the government.
"We are stepping up efforts to build an ecosystem where more software can run on hardware powered by our chips," says Yao.
Office software products, such as WPS and some data software, are now compatible with devices powered by its chips.
Roger Sheng, research director at Gartner Inc, said the computing power of the SW26010 processors is well recognized. "The business opportunity is there, but efforts are needed to promote its commercial applications."