Globalization brings shifts in Vietnam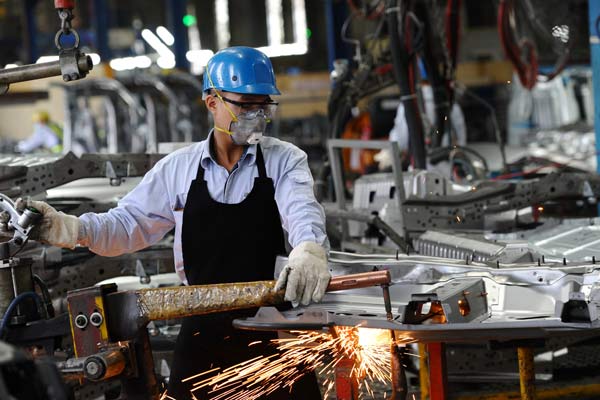 A Vietnamese worker welds in the body shop at the Ford automotive plant in the northern Vietnamese province of Hai Duong in January. [Photo/Agencies]
Nguyen Thi Thanh Loan grew up on a small plot of land in rural Vietnam, with just enough food to eat, few new clothes and no disposable income.
Today she works in a Ford factory assembling cars from Chinese, Thai, American and European parts, her children drink imported milk and Coca-Cola and she holidays with her family-winners of the globalization lottery.
"Before, children didn't have a lot of clothes or food, but life improved after their parents got factory jobs," Loan, 36, said at the Ford plant near Hanoi, the Vietnamese capital.
She is among millions whose lives have been transformed by Vietnam's free trade embrace, a process that began in the 1980s and has hauled the nation out of the penury of the post-war years.
Vietnam now boasts one of Southeast Asia's fastest growing economies, driven by exports of cheaply made goods from Nike shoes to Samsung phones.
"By going global, by going regional, Vietnam has clearly reaped the benefits of globalization," World Bank Vietnam Country Director Ousmane Dione said, citing large reductions in poverty.
Farms to freeways
A glance around Hai Duong, 50 kilometers from the capital, reveals why Vietnam has staked its future on free trade.
Since Ford first opened its doors 20 years ago, the area has morphed from an agrarian backwater into an industrial zone peppered with foreign-owned factories churning out electronics, clothing and machinery.
Vegetable plots and fishing ponds have been replaced by a four-lane highway for trucks carrying goods for export.
Held back by years of war and crippling Soviet-style policies, Vietnam has boasted an annual GDP growth of more than 5 percent for the past five years straight-though it failed to reach its ambitious target last year.
The country first opened its economy to foreign companies in the 1980s and investment gathered pace after the US scrapped a war-era trade embargo in 1994.
Exports now account for 90 percent of GDP, while the average annual income has surged from about $290 two decades ago to around $2,100 today, according to the World Bank.
In Hai Duong, the average Ford factory worker can earn more than twice that-although it is still a far cry from the average US manufacturing wage of about $43,000.
"Everything has changed," said Nguyen Van Tuan, 48, a part-time chauffeur, who grew up in a house made of mud and straw.
Today Tuan is proud of his three-story concrete home-built from the $800 Ford paid for his land 20 years ago. It sits on a paved road dotted with shops selling iPhones and Japanese badminton rackets.
For Ford, Vietnam's abundance of cheap labor and expanding domestic market is a magnet-it sells cars to an upwardly mobile middle class.
Agence France-Presse