New Chinese priorities seen boosting economy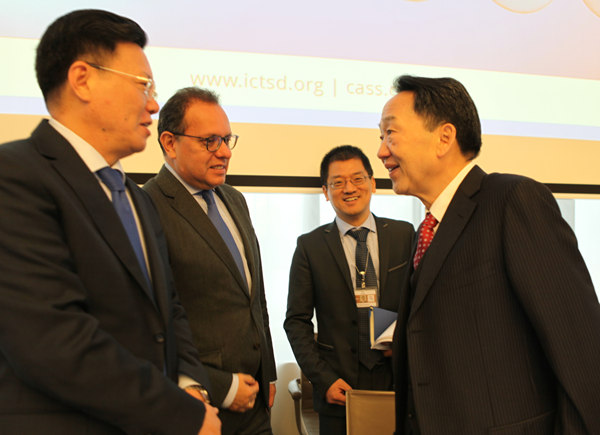 Prior to President Xi Jinping's visit to Switzerland on 15-18th January, Jiang Jianguo (Right), minister of the State Council Information Office said at a seminar in Geneva on Wednesday that China has made impressive progress in restructuring its economy and supply-side structural reform.  [Fu Jing / China Daily]
The shift in China's economy towards services and consumption underlines the country's success, indicating the obvious in shifting its development pattern and deepening a new round of market-oriented reform since 2013, Jiang Jianguo, Minister of the State Council Information Office said in Geneva on Wednesday.
Speaking ahead of President Xi Jinping's visit to Switzerland on 15-18th January, Jiang said the growth of the service industry has contributed 58.5 percent to the country's economy in the first three quarters of 2016. Consumption meanwhile generated 71 percent of the country's economic growth during the period.
"The service industry has became the main engine of China's economy and consumption has played an even bigger role," said Jiang at a seminar organized by the Chinese Academy of Social Sciences and the Geneva-based International Center for Trade and Sustainable Development.
Jiang said China's successful shift from and economy driven by investment and foreign trade has been accompanied by reform endeavors in which the market played a decisive role. The new round of reform was implemented in 2013, one year after Xi became China's top leader.
He said the Chinese government has rolled out 336 reform measures under 60 categories to deepen reform and in 2016, it accomplished 97 key reform tasks at the central government level and 194 at ministerial level.
"Among them, deepening supply-side structural reform is the leading measure to adapt to the economic new normal," said Jiang, who is traveling in Switzerland in preparation for Xi's visit.
"The focus of the reform is aimed to improve the quality and efficiency of supply, streamline institutions to ensure the market plays a decisive role in resource allocation."
Jiang said China will further implement reform measures to invigorate the real economy, promote stable and healthy real estate development and effectively manage the potential risks in finance, debt, real estate and the real economy.
Zhang Xiaojing, senior economist of the Chinese Academy of Social Sciences, also said China has made impressive progress in restructuring its economy and the new engines of sustainable growth have already emerged.
"The international community should take notice of China's gear shifts of its economy and its progress," said Zhang.
One impressive example Zhang listed is that China's patent-intensive industry and innovation sectors have grown at a two-digit pace in recent months despite the country's GDP slowing down to adapt to new economic norms.
He acknowledged that China's stimulus packages since the financial crisis have increased the leverage ratio in boosting the economy. But he compared with the situation in the United States, the European Union, Japan and other leading economies, saying, "China's risks and bubbles are within manageable reach."
As a leading economist doing comparative studies of the balance sheet of different economies, Zhang said China's comparative advantage is that the country's tremendous stock of national net assets could help it cope with any risks it faced.
"One typical example is that our foreign reserves are ample," said Zhang. "But many developed countries lack this kind of advantage in dealing with potential risks."
Ricardo Melendez-Ortiz, chief executive of the International Center for Trade and Sustainable Development, expressed concern about difficulties emerging in 2016 in the geopolitical, environment and global governance areas.
But he said global governance achieved successes in 2015 with the Paris Climate Change Agreement, by meeting the 2030 United Nations Sustainable Development Goals, and making progress in multilateral trade talks.
"It seemed that the year 2015 had seen impressive successes in global governance but the political debates in 2016 worldwide have lead to the challenges - of protectionism, isolationism, nationalism - we face right now," said Melendez-Ortiz.
He said President Xi's visit will take place against these dramatic changes in global governance in the past two years. "We are looking forward to Xi revealing his thoughts and plans on improving the global situation," said Melendez-Ortiz.