Former French prime minister: China expected to take lead in solving global problems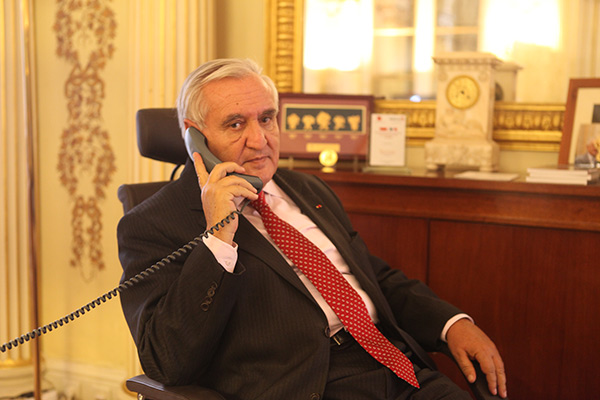 The veteran French politician Jean-Pierre Raffarin says he looks forward to hearing President Xi Jinping at the upcoming annual meeting of World Economic Forum. [Fu Jing/China Daily]
Veteran French politician Jean-Pierre Raffarin believes the world has become a more precarious place. Peace is fragile, some global players are unpredictable and inward-looking, and long-term vision is in short supply.
"People are afraid," the 68-year-old former prime minister and current vice-president of the French Senate told China Daily in an interview. "And the politicians in the West are inclined to close doors."
His remarks reflect a prevailing concern among the politicians, business leaders, academics and media gathering for the annual conference of the World Economic Forum on 17-20 January in Davos, Switzerland, which President Xi Jinping will attend.
Xi will pay a state visit to Switzerland from January 15-18 and deliver a speech at Davos during his first overseas tour of 2017.
There will be intense international interest in Xi's presence at Davos at a time when the world looks to China for solutions to rising global challenges.
Raffarin, who has been actively engaged with China for four decades, said he had high expectations of Xi's contribution at Davos towards global efforts to achieve peace, prosperity and reform.
He said the strategy of opening up and reform initiated by Deng Xiaoping had been well implemented by China's leadership for decades, delivering "beautiful results."
Under Xi's leadership China had achieved a "good balance" between rapid growth and tackling social and ecological problems and rooting out corruption, he said.
"With reform high on Xi's agenda, he has emphasized inclusive growth and innovation, which have also solved many social problems," said Raffarin.
China has made big strides in forging partnerships with a variety of countries and actively participated in the work and initiatives of the UN and other international organizations, he said.