City cluster program gets bank's backing
By REN XIAOJIN and LI XIANG in Beijing and ZHANG MIN in Tianjin | China Daily | Updated: 2017-02-21 08:12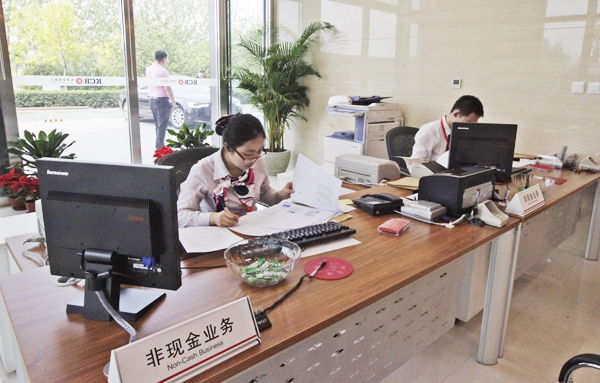 The office of KinCheng Bank of Tianjin Co in the Tianjin Free Trade Zone. [Photo provided to China Daily]
Programs to support the coordinated development of Beijing, Tianjin and Hebei province-into a planned new city cluster expected to fuel the growth of the whole Bohai Bay area in the coming decades-will get the backing of Tianjin's banking sector, senior financial officials from the region said.
They said regulatory committees from the region would also work closely to eliminate any financial risk.
Beijing, Tianjin and Hebei province had a combined GDP of just over $1 trillion last year which accounted for around 10 percent of China's 74 trillion yuan ($10.7 trillion) GDP.
The municipalities and the province have signed a memorandum of understanding with the China Development Bank to prepare the way for 210 million yuan in funding in next three years.
Bank of China has, meanwhile, signed a cooperation plan with the Tianjin municipal government to provide 30 billion yuan of loans in the future, while 15 billion yuan in funding is promised between the Pudong Development Bank and Binhai district in Tianjin.
Banking regulation committees in Beijing, Tianjin and Hebei province should focus on the process, said Wang Wengang, deputy director of the Tianjin bureau of the China Banking Regulatory Commission.
"We are also working to integrate the resources of the three places," Wang added.
He said the aim of the arrangement was for better allocation of financial resources in Beijing, Tianjin and Hebei.
The Tianjin bureau of the China Banking Regulatory Commission would encourage the banks to invest in the clean energy sector, ease the excess capacity problem in steel industry and accelerate industrial upgrading, Wang added.
Tianjin will also set up funds and venture lending projects to support emerging industries, advanced manufacturing sectors and its pillar industries.
Multibillion yuan of funds have been established to reform and upgrade industry structure.
Officials said Tianjin free trade zone would continue to promote the opening up of Beijing, Tianjin and Hebei province.
According to Xu Shaoshi, minister of the National Development and Reform Commission, the Tianjin Pilot Free Trade Zone will play a more proactive role, encouraging cross-border investment and financing, equity transactions and entrepreneurship within the Beijing-Tianjin-Hebei region by unifying relevant rules and regulations.
"Financing support plays an important role in promoting the integrated development of the Beijing-Tianjin-Hebei region," said Zeng Gang, a researcher of the Chinese Academy of Social Sciences.
"It can function as leveraging in promoting infrastructure, industrial restructure and green development of the region."
He added that risks also existed in such programs, but tended to be lower theoretically as they were State-level programs.
"Financial institutions are expected to support the strategic development of the three places but also need to assess the risks accordingly," Zeng said.
Cheng Yu contributed to the story.