London gets a taste for Chinese spirit
Cocktail bars put fiery liquor to the test as demand grows for drinks with difference
Drinks columnist Douglas Blyde began his affinity with baijiu when he was presented an intriguing looking bottle with a red ribbon around its neck in a shopping mall in China's Inner Mongolia autonomous region.
Since then, he has become a fan of the fiery Chinese spirit that is the most widely consumed alcohol in the world, despite being little known beyond the borders of China, where it is the national drink.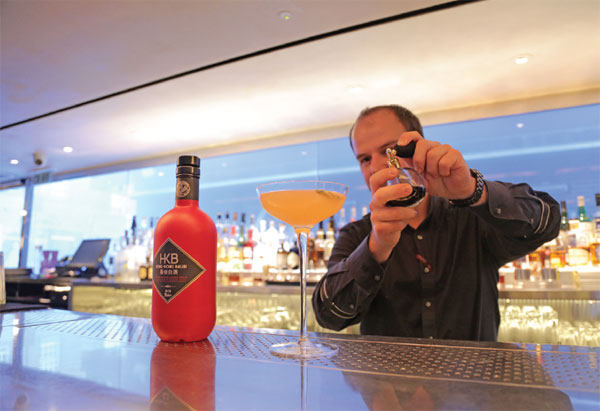 A bartender makes baijiu-based cocktail in Central London. Kevin Wang / China Daily
Baijiu, usually distilled from sorghum and rice, contains between 40 to 60 percent alcohol by volume. With over 5,000 years of heritage, it is a mainstay at festive occasions in China, from New Year dinners to wedding receptions to business banquets.
Around 5.5 billion liters of baijiu were consumed last year, according to London-based consultancy Euromonitor International.
"I tend to enjoy baijiu neat, as it often has an indefatigable, flamboyant, exotic essence which brings excitement to the table," says Blyde, who writes a column for the London Evening Standard. He also advises sipping, not shooting, quality baijiu.
Baijiu is far from taking over the bar, but in recent years baijiu cocktails have been appearing on menus across London, from the Yauatcha in Soho, to the Arbitrager in the City, to the Mei Ume bar in the Four Seasons Hotel.
"When we first started selling baijiu cocktails around 2010/11, we were pretty unique," says Paul Mathew, owner of the Arbitrager and the Hide, two cocktail bars in London. "Things are definitely moving on."
Bars across London have been celebrating China's world-leading spirit with special drinks and menus for Baijiu Cocktail Week for the past few years.
Sarah Lewis, one of the founders of Baijiu Cocktail Week, says the spirit has grown in popularity as drinkers look for something new and different. "They love the history, the unusual taste and the design of the bottles," she says.
As different categories of baijiu present different challenges, bartenders must think carefully about what flavors work well and what characteristics they want to draw out or hide.
For example, baijiu with a strong aroma is harder to complement. "I like using these with things like pomelo, strong teas, pear or smoky flavors," says Mathew, who recently took part in a baijiu seminar panel at the world's biggest International cocktail festival in New Orleans.
Eder de Oliveira Fonseca Neto, Hakkasan Group's head of bar, has been creating baijiu cocktails since 2015. His bar sells around 15 to 20 baijiu cocktails a day, priced at £12.50 ($16.50; 14.06 euros) each.
"Baijiu cocktails tend to be fruity and earthy, while the majority of traditional cocktails would be one or the other," he says.
Neto says the distinctive character of baijiu adds a complexity to drinks when mixed well.
"Bartenders are constantly searching for new products to take their drinks to the next level, and baijiu certainly does the job," he says.
The growing popularity of baijiu cocktails is not limited to London.
New York venues, including the Mission Chinese Food, Red Farm, the Peninsula Hotel and the Park Hyatt Hotel, now regularly serve them.
Sam Anderson, beverage director at Mission Chinese Food on East Broadway, says the key to making a good baijiu cocktail is to mix it with equally strong flavors.
"If you do a baijiu cocktail with St-Germain," Anderson says, referring to a liqueur flavored with elder-flowers, "the St-Germain will get blown out of the water."
The growth of baijiu abroad is in line with the increasing appreciation and understanding of China globally, says Mathew.
"Bartenders are becoming more ... adventurous," he says. "They are increasingly looking to Asia for flavors and ingredients. We had bartenders from all over the world at a cocktail festival asking about mixing baijiu, production techniques and which brands to buy for the cocktails."
However, the association with Chinese culture in drinking is not necessarily a blessing.
"Many (foreigners) find baijiu off-putting," says Bill Isler, co-founder of Beijing's Capital Spirits, the world's first baijiu-themed bar. "But it's not about the liquor itself."
Isler says the drink's fearsome reputation originates from visitors being coerced into excessive drinking by friends or co-workers in China, where persuading people to drink is a gesture of generosity and being a good host.
In China, baijiu drinking is a hugely important part of the ritual of dining and cementing relationships. Sharing a bottle around the meal table is as much symbolic as it is for the consumption of alcohol.
But Mathew says there's a competitive element of baijiu drinking in China.
"I've experienced it being the Westerner around a dining table and everybody wants to toast you," he says. "It is a bit of a knife fight - there's an interesting dynamic as to who toasts whom and how it goes around the table."
Despite its growing popularity outside of China, there is still a long way to go.
Michal Maziarz, head bartender at Mei Ume restaurant at London's Four Seasons Hotel, says there is little knowledge about baijiu - how to recognize the different varieties or understand how the flavors have been created.
Maziarz suggests promoting baijiu in Western markets by standardizing the flavor. One way would be to invite Western spirits experts or sommeliers to create a panel where they could discuss the flavor and categorize baijiu, he says.
Baijiu-producing companies are eager to enter Western markets.
The State-owned Kweichow Moutai Co launched its iconic Moutai brand in Hamburg, Germany, to bring the fiery spirit to mainstream Europe.
Sichuan Swellfun, a baijiu maker in Chengdu, Sichuan province, sold a stake to London-based beverage multinational Diageo in 2013.
"It would be great to see brands partnering with spirit distributors who specialize in bars," says Mathew, who adds that sourcing baijiu easily at a good price can be difficult.
"A lot of baijiu marketing in China surrounds the aura of the brand without giving too much detail," he says. "But here, bartenders and an increasingly educated spirits consumer want to know about the raw materials, fermentation process, stills and aging."
Zhang Yangfei contributed to this story.
Contact the writer at wangmingjie@mail.chinadailyuk.com
(China Daily European Weekly 11/24/2017 page28)