Waste oil fuels aviation breakthrough in China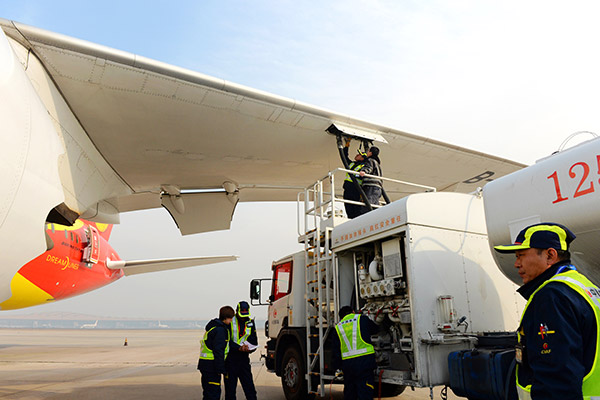 Ground staff pump biofuel into a Hainan Airlines flight at Capital International Airport in Beijing on Tuesday. [Photo/Xinhua]
Hainan Airlines flight to Chicago uses biofuel made by Sinopec unit
China conducted the nation's first cross-ocean flight powered by green aviation fuel on Tuesday, carrying 186 passengers and 15 crew members. The successful flight signals another significant breakthrough for domestic biofuel.
The Hainan Airlines flight from Beijing landed at Chicago's O'Hare International Airport on Tuesday, after flying 11 hours and 41 minutes, for a distance of 11,297 kilometers. The Boeing 787 aircraft flew with biofuel produced from waste cooking oil by China Petroleum and Chemical Corp.
The aviation kerosene made from restaurants' waste edible oil was produced at Zhenhai Refining and Chemical Co, a subsidiary of Sinopec based in Ningbo, Zhejiang province, and the biofuel is a mix of 15 percent of cooking oil and 85 percent of conventional aviation fuel.
"The biofuel developed by Sinopec is of great significance to people's health as well as environmental protection," said Han Xiaoping, chief information officer of China Energy Net Consulting Co.
"The biofuel has high quality, thanks to Sinopec's sophisticated technology in the sector. Flights need large amounts of high-quality fuel, which requires fuel manufacturers to add additives to make sure that it will not freeze during low temperatures," he said.
"The country needs to offer tax exemptions and subsidies in the aviation-grade biofuel sector to support its development," Han said, adding that related laws and regulations should be established to ensure restaurants' waste kitchen oil will not return to family dining tables.
Xu Chaoqun, head of the airworthiness certification department at the Civil Aviation Administration of China, said the use of biofuel is an important development in the global aviation fuel market.
"It's critical to develop green alternative energy, and push forward the R&D and application of biofuel with independent intellectual property rights. The biofuel developed by Sinopec is the first such aviation fuel that has been approved by the CAAC."
Sinopec said jet fuel made from restaurants' waste kitchen oil will help to reduce carbon dioxide emissions and make better use of the waste.
Sinopec spokesman Lyu Dapeng said aviation biofuel had met stringent safety standards, and Sinopec will speed up the commercial application of the biofuel with the support of related parties.
Biofuel usually refers to aviation fuel that is produced from renewable resources, including vegetable oils such as coconut oil, palm oil, jatropha oil and linseed oil, in addition to microalgae oil, waste cooking oil and animal fat. Compared with traditional petroleum-based aviation fuel, biofuel can help to reduce over 50 percent of carbon dioxide.