Singles Day gets an international flavor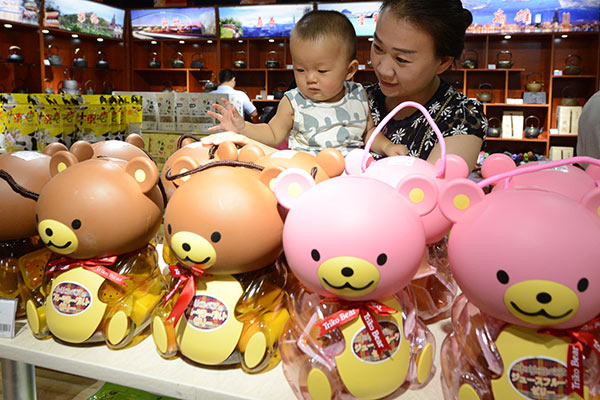 Customers check out products at an online-to-offline shopping mall for overseas goods in Zhengzhou, Henan province. Internet companies are ramping up activities ahead of the Singles Day shopping extravaganza on Nov 11.ZHANG TAO/CHINA DAILY
Internet companies are drumming up business for Singles Day by expanding the selection of international brands to Chinese consumers. Ahead of the shopping festival during this weekend, companies are scrambling to position their products in the online shop window.
JD.com Inc is planning to use the event as a cornerstone of its 12-day global shopping festival.
The second-biggest internet retailer in China will cover more than 200 countries and regions this year, allowing shoppers around the world to enjoy high-quality products from China.
"The United States, Russia and Southeast Asia will be the core markets, and we will offer discounts and coupons, as well as free delivery for consumers in China's Hong Kong, Macao and Taiwan for the first time," said Yu Guoyou, a manager from JD's overseas business department.
Amazon.com Inc has pledged to provide Chinese shoppers with high-quality and authentic products from leading international brands at competitive prices.
The United States-based e-commerce company plans to expand its merchandising in the Amazon Global Store, as well as speed up logistics and delivery operations.
Amazon China Prime membership will also be available at just 288 yuan ($43.6) for various benefits, including extra coupon packages.
Prime members can expect to enjoy exclusive deals and quicker delivery services during the upcoming shopping carnival.
Similar promises are being made by Alibaba Group Holding Ltd, which launched Singles Day in 2009.
The e-commerce giant revealed that more than 60,000 out of 140,000 participating brands will be international labels, such as Adidas, Estee Lauder and Wyeth.
Multinational companies will offer discounted items from authentic, autographed sports memorabilia to fresh foods and produce to half a billion Chinese consumers.
"Double Eleven is not just a holiday for our Chinese users, but a holiday celebrated across the globe," Daniel Zhang, CEO of Alibaba, told the media in Shanghai last month.
Last year, on Nov 11, 120.7 billion yuan was spent on the group's various platforms from 100,000 retail outlets.
To put that into perspective, it was triple the spending power of Black Friday and Cyber Monday combined in the US in 2016.
This year, Alibaba is expecting the pace of growth in international transactions to be faster than domestic sales.
"Cross-border e-commerce into China will probably play a bigger role this time, although at the end of the day it targets the same group of customers as domestic sales," said Richard McKenzie, a partner at consultancy Oliver Wyman.
More than 81 percent of consumers polled by Nielsen admitted that they wanted to buy imported products during Singles Day.
The majority were between the ages of 26 to 35 and had more than 20,000 yuan of disposable income per month.
Moreover, Alibaba will use the shopping jamboree to promote 100 Chinese brands, including Gree Electric Appliances and Haier Group to markets in China's Hong Kong and Taiwan, as well as Singapore and Malaysia through its Tmall World shopping site.
The online group is increasingly integrating its Southeast Asia franchise, Lazada Group, into the mix. More than 600 million consumers in the region can access Alibaba's "Taobao Collection" via Lazada.
"It will be big but not overly massive," McKenzie, of Oliver Wyman, said. "Mainly, Chinese consumers worldwide will join in, but less so for local people in the West."