More than half of Chinese online shoppers have bought British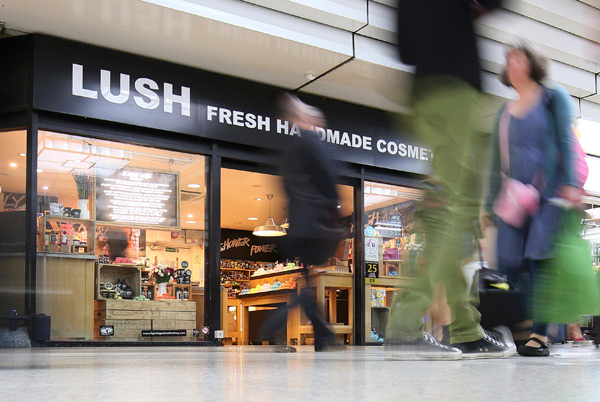 People walk pass a Lush cosmetics store in London, Britain July 8, 2016. [Photo/Agencies]
Chinese shoppers are more likely to buy British products online than they were in the past, thanks to a growing awareness of Britain's heritage brands and a better logistics infrastructure, according to the latest statistics from the Royal Mail.
The report, which was based on a survey of 1,500 Chinese online shoppers, discovered 55 percent had bought UK brands, spending an average of 104 pounds ($136) a month on items from British retailers.
The report, which was published Thursday ahead of China's Singles Day shopping spree on Saturday, found that 87 percent of respondents would like to buy British brands, and 76 percent believed items bought from British retailers would not be counterfeit.
"UK brands are really clicking with China's shoppers and have a unique advantage, as their goods are perceived to be of premium quality," said Nick Landon, managing director of Royal Mail Parcels. He said the United Kingdom's retailers "should feel confident that exporting to China can deliver benefits to their business".
"Breaking into this market has been made much more straightforward, thanks to Chinese third-party platforms, such as Alibaba's Tmall."
China's Singles Day, an initiative started by the e-commerce giant Alibaba, is expected to generate $23 billion of trade this year, according to consulting company Oliver Wyman.
The emergence of cross-border e-commerce means China's Singles Day already has huge implications for UK retailers.
Eric Wang, co-founder of the UK logistics firm 51Parcel, said his team had noticed increased e-commerce logistics traffic from brands and e-commerce platforms during October and November because they have been delivering products from UK producers to bonded warehouses in China in preparation for Singles Day.
Wang, who is also co-founder of the e-commerce consultancy Avenue 51, said Chinese shoppers' growing awareness of British brands contributes to the surge in British products being bought by Chinese people.
"In the past, Chinese shoppers mostly bought products from large British high-street brands, such as Holland & Barrett, Boots, Lush, and Body Shop, but now their more sophisticated understanding of Britain's market means they are proactively looking to buy good brands that are really recognized and popular among Britain's general public," Wang said.
Meanwhile, rapid improvement of cross-border e-commerce logistics is significantly slashing the cost of such sales.
Chinese logistics companies, including STO Express and Dolphin Supply Chain, have significantly strengthened their UK presence. They have invested in warehouse facilities and built up a partner network of aircraft and trucks to secure reliable and fast transportation.