Li seeking new ideas to give the economy boost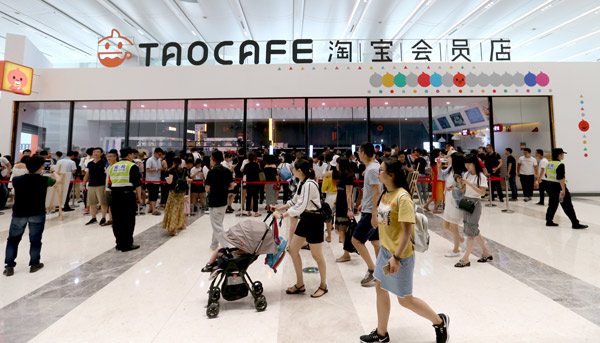 Alibaba Group's cashier-free retail store Tao Cafe attracts customers in Hangzhou, Zhejiang province. [Photo by Wang Zhuangfei/China Daily]

At seminar, premier asks experts to suggest strategies for coming year
China will redouble its efforts to improve the quality of its products and services-as well as its capacity for innovation-to ensure healthy, stable economic growth in the coming year, Premier Li Keqiang said on Tuesday.
Li made the remark at a State Council seminar that was attended by economists and business representatives at the Zhongnanhai compound in Beijing. The seminar aimed to analyze China's current development and seek policy recommendations on the country's economic strategy for the coming year.
The country's economy grew more than expected in the past year, which has provided a powerful response to those who predicted a hard landing, Li said.
"In the past, we have spared no effort to encourage investment," he said. "Now we need more ideas and actions to boost consumption so the economy will grow in a healthier and more sustainable manner."
China's economy grew at an annual rate of 6.9 percent in the first three quarters of this year. Final consumption accounted for 4.4 percentage points (64.5 percent) of that growth, with the rest coming from investment and net exports, according to the National Bureau of Statistics.
Urging the government to fully implement the strategies approved during the 19th National Congress of the Communist Party of China, Li said the economic work plan for 2018 will be connected with the goal of building a moderately prosperous society in all respects.
"As China is now deeply integrated into the world economy, we need to stay aware of various potential risks from outside," Li said, adding that structural contradictions in the Chinese economy still exist.
He said the biggest potential for China's future growth lies in the country's rich human resources.
"Recent years have seen amazing potential unleashed from the people, with the government streamlining administration and encouraging mass innovation and entrepreneurship," Li said. "We will stand firmly with these efforts to help people to unleash their creativity and create value."
The government will continue to cut taxes for businesses to give full play to the role of the market and encourage mass entrepreneurship, he said.
In the first nine months, high-tech manufacturing represented 13.1 percent of the year-on-year growth.
Among the representatives who spoke with the premier at the seminar was Bai Chongen, deputy executive dean of the School of Economics and Management at Tsinghua University.
Bai, a member of the People's Bank of China monetary policy committee, said it was "encouraging to see that the government has been moderating its annual growth target" over the past several years.
"This means we are giving increasing attention to fixing the economic structure in the long term," he said.