Pursuit of tastier, healthier food turns meaty in Qingdao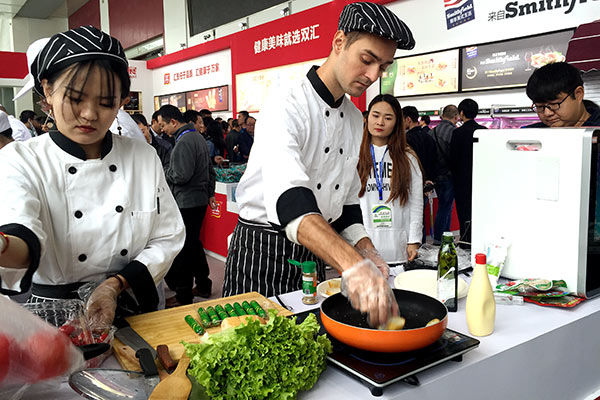 Chefs cook meat for visitors at an international meat exhibition in Qingdao, Shandong province, on Oct 18. The three-day exhibition brought together major meat industry players from home and abroad.YANG FEIYUE/CHINA DAILY

Rising affluence of Chinese middle class, health awareness help expand meat trade
Consumption upgrade, health consciousness and pursuit of a better quality of life are all spurring innovation and expansion of meat trade in China-and Liao Xiuping, in her 30s, a bank employee in Qingdao, Shandong province, -would vouch for it.
She visited an international meat exhibition in her hometown on Oct 18. The three-day event, jointly hosted by the China Meat Association and the France-based International Meat Society, brought together major meat industry players from home and abroad. They all displayed and sold their latest products.
That's when Liao realized Chinese consumers can now buy a wide range of meat products, including novelties.
"My family loves meat dishes, and I've come to see if I could buy new and quality products. I'm pleased to see there's a lot available here," Liao said at the exhibition.
That's high praise from a connoisseur of meat products. Liao regularly buys premium meat from well-known domestic producers as well as importers who sell through online marketplaces JD and Tmall.
"Meat is an important element on our family dining table, and I want to make sure it's nutritious and safe for my child," Liao said.
In recent years, middle-class parents such as Liao, flush with rising disposable incomes and health awareness, are stoking increasing demand for quality meat in China.
Meat imports have been steadily rising from 2014 onward, according to the CMA.
Last year, China imported 4.67 million tons of meat, up 63.4 percent year-on-year.
"Our meat imports grew by more than 55 times from 1992 to 2016, and more than doubled compared to 2010," said Gao Guan, deputy secretary-general of the CMA.
China's annual meat consumption has reached 90 million tons (or 66 kg per person per year), he said, adding that the figure is expected to reach 100 million tons by 2020.
The potential has drawn attention of many meat producers abroad.
"We've exported a lot of pork to China of late. Its value was about 700 million euros ($824.81 million) in 2016," said Jos Goebbels, president of the Dutch Meat Association.
The DMA has been doing business in China since 2012 and saw volumes increase tenfold over the past few years.
"Our products can be found in supermarkets and restaurants (in China)," Goebbels said.
He attributed the success to Dutch pork's consistency in quality. The DMA would start exporting beef as well to China soon.
It has signed a cooperation agreement with its Chinese counterpart, the CMA, and both sides would set up a Joint Meat Cooperation Center, and engage in pork and beef quality control and market information exchange.
The increasing demand for better meat has also spurred domestic producers to make efforts to come up with suitable supplies .
For instance, Lon Food Co has applied Chinese veterinarian approach to raising its pigs.
"We've used more than 100 natural plants to develop custom-made feedstuff for our piggies," said Wang Yang, general manager of the company.
"Ingredients vary with seasons and locations to ensure ideal pig development."
The method avoids use of antibiotics and produces meat featuring rich or high unsaturated fatty acid, Wang said.
In addition, Lon Food has taken control of animal feedstuff, raising and slaughtering to ensure its meat has top quality.
Now, the company has 150,000-200,000 pigs and market sales are brisk, despite the product price being roughly twice that of its domestic counterparts.
"We've to base sales on products at the moment, since we've sold what we had," Wang said.
The company is now building its own pig farms to increase future supply.
Other meat producers are also stepping up efforts to ensure top quality.
New Hope Liuhe Co, a major animal feed and agricultural products maker, is building a traceability system for all of its major products.
Some of its high-end products have a QR code on the package that leads to information on animal feeder and slaughtering, production and expiry date.
"It will enable consumers to know everything about the products that concern them, so they would feel safe while buying," said Li Ji, brand marketing general manager with New Hope Liuhe.
"If something comes up in the products they buy, it would be easier to trace back to the problem, which ensures food safety," said Li.
The company has set up a food safety management team of 2,000 specialists. Its traceability system received recognition of the Ministry of Industry and Information Technology in August.
New Hope Liuhe has also conducted tests on more than 350,000 samples to ensure top quality of raw material and finished products, according Deng Cheng, its CEO.
In addition to quality control, some enterprises have diversified their products to serve variety-craving consumers.
Shuanghui Group, the country's largest meat-processing company, launched more than 180 new products at the Qingdao exhibition.
"In addition to Western and American-styled meat products, we made a point of developing leisure products," said Du Junfu, vice-president of Shuanghui Investment and Development Co.
Such leisure (or instant or ready-to-eat) products feature meat combined with other foods such as eggs, dairy and vegetables.
"They are easy to carry and instantly edible, and mainly intended for travelers, women and children," Du said.
"For example, some sausage is stuffed with bone soup, which satisfies customers' needs in terms of well-balanced nutrition."
So far, sales of such novel products are up to the company's expectation, Du said.
He probably has consumers such as Qingdao meat maven Liao to thank for being able to make such headway.
Liao bought a bag of beef from Inner Mongolia autonomous region, a few Shuanghui sausages and several meat cooking ingredients during her half-a-day visit to the exhibition.
"Many booths offer tasting, and some are really good. I've put down a few product names and would try them in the future," Liao said.