Chinese oil giants win Brazil offshore auction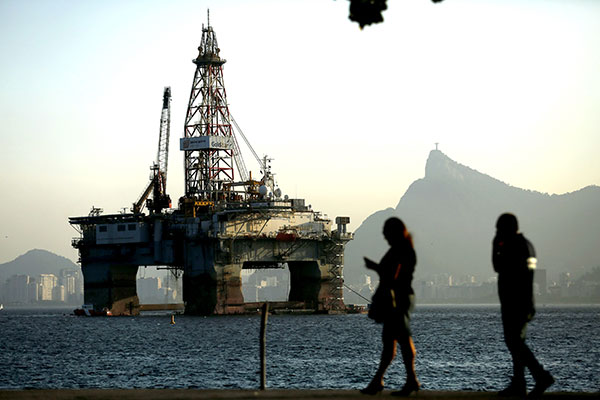 Visitors take photographs of an oil platform in Guanabara Bay in Niteroi, near Rio de Janeiro, the capital of Brazil. Chinese oil majors are looking to expand investment in the South American nation.[Photo/Agencies]
Deal expected to boost cooperation between China and oil rich South American country
Chinese oil giants are eyeing an expanded presence in Brazil, winning holdings in three blocks awarded in Brazil's deepwater oil auction in a historic opening of the pre-salt play to foreign operators.
Consortiums comprising China's three major oil giants, China National Petroleum Corp, China Petroleum & Chemical Corp and China National Offshore Oil Corp, have respectively won three blocks recently, deepening the energy cooperation between the two countries.
Analysts said Chinese oil and gas companies' participation show the growing interest of China, the world's top crude oil importer, in Brazil, and it is believed the presence of Chinese energy behemoths will further enhance in the future, as both countries are complimentary in resources, technology and capital.
China has the technology, the capital and most important, the demand for crude oil, and Brazil is definitely an ideal partner while also playing a significant role in the Belt and Road Initiative, said Li Li, research director for the energy sector at ICIS China, a consultancy focused on the energy industry.
Brazil put six of the eight blocks on offer in the auction for the rights to pump oil from its coveted pre-salt region, where billions of barrels of oil are trapped below thousands of feet of salt in the country's Atlantic waters.
The three blocks include Peroba, located in the Santos basin and boasting an estimated 5.3 billion barrels of oil, Alto de Cabo Frio West in the Santos basin and Sapinhoa, located in the same region with an estimated 350 million barrels of oil.
President Michel Temer said recently that the development of the blocks would lead to 100 billion reais ($30.84 billion) in investment from the winning companies for Brazil.
Energy cooperation between China and Brazil, a basis for economic and social development, has great potential and China has witnessed a large amount of imported oil from Brazil in recent years, said Zhou Dadi, a senior researcher at the China Energy Research Society.
Many oil majors including Royal Dutch Shell, Exxon Mobil Corp and BP also won blocks during the auction, the first in four years to offer up stakes of Brazil's pre-salt, where has over 5 billion in proven oil reserves and nearly 3 billion cubic meters of gas, according to Reuters.
However, Chinese companies should conduct thorough research in another country's economic situation, policy on foreign investment and energy similarities, so as to ensure win-win cooperation, Zhou said.
China imported 281.1 million metric tons of crude in the first eight months of this year, equivalent to 8.44 million barrels per day, according to Customs data, up 12.3 percent from the same period in 2016.