Online classes for kids gaining in popularity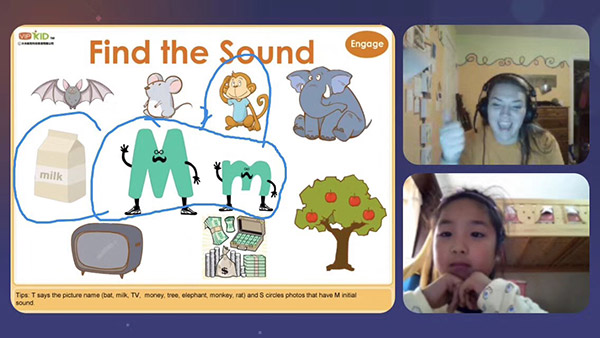 Liu Xintian, 6, has a one-on-one online English class with her teacher, Bridgette, who is in the United States.
One-on-one attention from teachers, convenience spur growth
On a weekend morning in Beijing, Youyou, 7, clicked an app on her iPad, greeted her teacher in the United States, and started her one-on-one online English lesson at home.
Having two lessons a week - each lasting about 20 minutes - the first-grade primary school student had been studying this way for almost three months. Her mother, Amy Chang, who had sat with Youyou during all her the lessons, was particularly happy with her performance this time.
"She's getting more used to the teaching approach, mastering the knowledge faster and interacting better with the teacher from afar," said Chang, who pays about 200 yuan ($30) per online lesson.
"It turned out to be a sensible choice to change my daughter from an offline English class to an online one."
One-on-one online teaching for children, especially English lessons taught by teachers who are native speakers of the language, is becoming increasingly popular in China.
A report released by iResearch consulting company in August showed that the market size of children's online English education in China was almost 2 billion yuan last year, up 45 percent from the previous year. The number of users in China of such online education tools - including free programs - was about 3.2 million people in 2016, 40 percent up from 2015.
Online English education for children will experience "explosive growth", the report said, as more Chinese parents emphasize their children learning English, the acceptance of online education grows and more parents plan to send their children to study overseas at a young age.
Bright future
The report anticipated that the market size would surpass 5 billion yuan in 2019, with the number of users reaching 8 million people that year. Some companies have already benefited from the growing need and are developing and expanding quickly.
One such service, VIPkids, an online English education platform targeting children 4 to 12 years old in China, was established only four years ago but has already signed up 20,000 teachers from the US and Canada to conduct one-on-one teaching of English through video to more than 200,000 paid users.
In August, the company announced that its latest round of financing had garnered $200 million, the largest such financing round in the K-12 online education sector.
Mi Wenjuan, founder and CEO of VIPkids, said the popularity of children's online English education is closely related to Chinese parents' evolving educational perspective.
"Parents born in the 1980s, and even the 1990s, grew up in an era in which the internet started being woven into aspects of their life, including how they bring up children," she said.
"They are more open and willing to try new things than parents born in the 1970s or earlier. For them, online English education is convenient and time-saving. Most importantly, they are seeing their children's growing interest in the language and good learning effects."
Effective learning
Li Li, a Beijing resident, said she finally decided to move her 8-year-old son to an online one-on-one English class because she was getting increasingly busy with work and had no time to send her son to and pick him up from the offline course.
"That was the original cause of choosing an online course, but I soon found more benefits I hadn't expected," the 37-year-old said.
"The teacher did a great job in arousing my son's interest in learning the language by means of engaging him with various activities such as conversations, games, singing and drawing. And one-on-one meant full attention from the teacher to ensure effective learning."
Allysa Bolzon, a teacher in Canada who teaches an average of 20 hours a week on the VIPkids platform, said online on-one-one English education relies a lot on teachers' body language and visuals to help keep students focused.
Total physical response - a language teaching approach based on a coordination of language and physical movement - is emphasized by many online education companies like VIPkids. Education professionals say it enriches the online classroom environment and helps increase the connection between teacher and student by getting the student to move and interact with the teacher.
"It is also a great way for the student to remember vocabulary," Bolzon said.