Chinese bike-sharing company Ofo lands in Sydney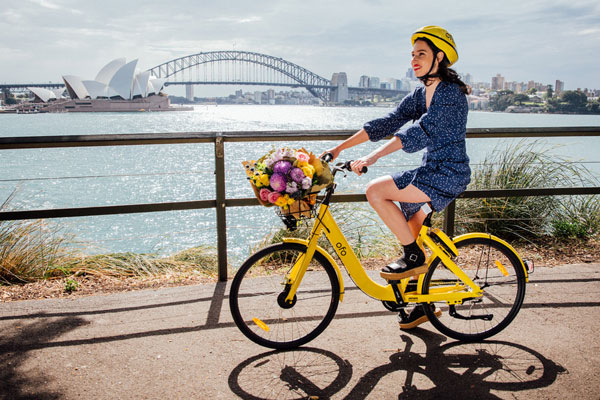 An Australian rides an Ofo bike at the seacoast in Sydney, Sept 25, 2017. [Photo/IC]
Chinese bike-sharing titan Ofo Inc announced it has landed in Australia's major city Sydney, with the endorsement of local cycling association Bicycle New South Wales, as the company ramps up its efforts to expand the booming cycle empire into the overseas market, NetEase Technology reported on Tuesday.
The move marks the company's latest step to fulfill its ambitious goal to pedal to 200 cities in 20 countries by the end of this year, as it battles its major rival, Mobike Technology Co Ltd.
After successful pilot operation in Adelaide, capital of South Australia, Ofo will deploy a full fleet of 2,000 bikes in downtown Sydney and then increase its presence in nearby areas in the following weeks.
Users will be able to ride the shared bikes with riding helmets by simply scanning a QR code printed on the bike via an app and paying A$1 ($0.79) per half hour or A$5 maximum for one ride without any deposit or membership fee, the report said.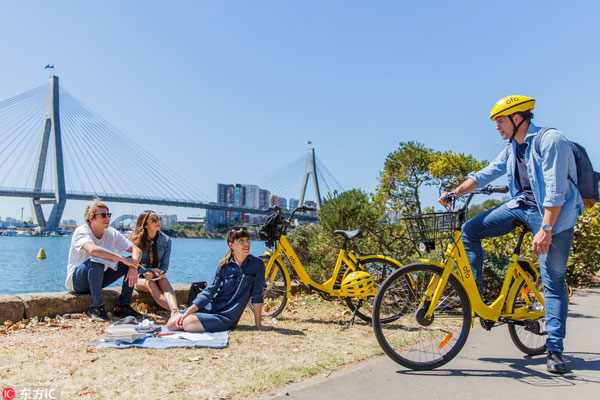 An Australian riding an Ofo bike talks with his friends at the seacoast in Sydney, Australia, Sept 25, 2017.[Photo/IC]
As in other cities where it operates, Ofo has assembled a local support team in pre-planned riding areas in Sydney to manage bicycle distribution and maintenance. Employing electronic fencing system and GPS, the team is able to determine real-time traffic patterns and usage demand and then allocate the bikes accordingly.
The users can also find the most appropriate areas to place the bikes via the app on their smartphones with the aid of the intelligent systems and report the loss of riding helmets and broken bikes via the app or 24-hour hotline printed on the bikes.
Ofo will also launch a credit rating system to encourage users to ride and place the bikes appropriately and deduct scores of users who don't follow rules and regulations, the report said.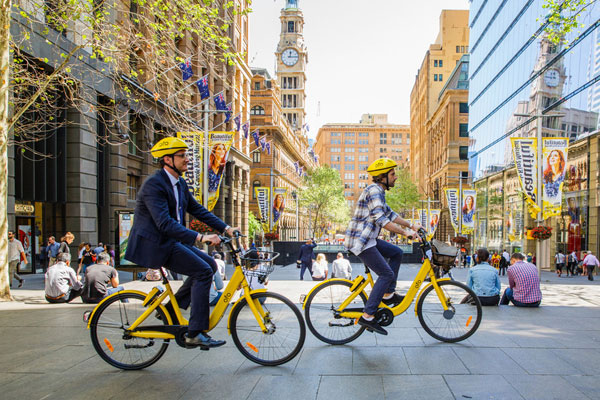 Two local residents ride Ofo bike on the street in Sydney, Australia, Sept 25, 2017. [Photo/IC]
Founded in 2014, the Beijing-based bike-sharing company Ofo generates more than 25 million daily transactions, operates over 10 million bikes in over 170 cities across 10 countries - China, Singapore, the United States, the United Kingdom, Kazakhstan, Thailand, Malaysia, Japan, Austria and Australia - and has provided over 4 billion rides to over 200 million users globally, Xinhua reported.
The company is valued at more than $2 billion after it raised $700 million in its series E round of financing in July, the biggest known round of financing in the bike-sharing industry to date, surpassing Mobike's over $600 million round in June this year.