Ofo announces European expansion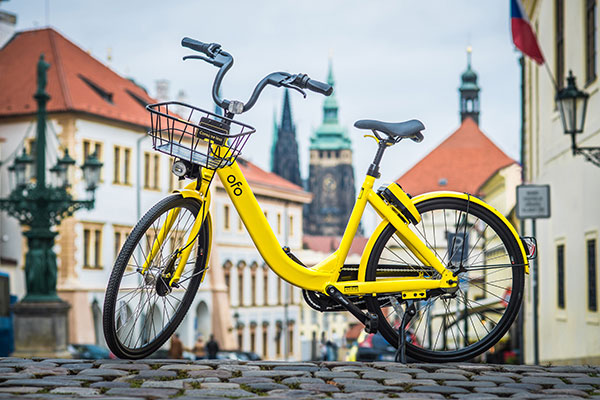 A yellow Ofo bike in Prague, Czech Republic. [Photo provided to chinadaily.com.cn]
On Friday, Chinese bike-sharing company Ofo Inc announced its official launch in four European countries — the Czech Republic, Italy, Russia and the Netherlands — as the company ramps up efforts to expand its booming cycle empire globally.
It marks the company's latest move to meet its former ambitious goal to enter 200 cities in 20 countries by the end of this year, as competition with its arch rival Mobike Technology Co Ltd gets fiercer in the global market.
"Our platform was created with the ambition of improving the environment globally by introducing our low-carbon transportation to urban dwellers," said Dai Wei, founder and CEO of Ofo. "Ofo is committed to bringing our green service to every city in need of convenient short-distance travel solutions."
Ofo said it deployed an initial batch of 300 yellow shared bikes in the Praha 7 area of Prague, the Czech capital. Local residents will be charged 0.5 euro ($0.6) per half hour to ride the bikes.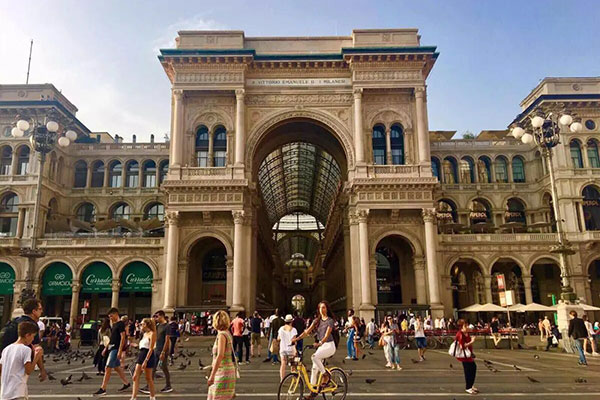 A local citizen rides Ofo's shared bike in Milan, Italy. [Photo provided to chinadaily.com.cn]
Petra Kolinska, deputy mayor of Prague, said this would be a great opportunity.
"I support all measures that make the city more environmentally-friendly. I believe Prague will have good cooperation with the service provider, bringing the citizens of Prague many benefits."
Ofo co-founder and COO Zhang Yanqi said, "We are very excited to play a part in modernizing [the city's] transportation, improving its tourists' and residents' traveling experiences and preserving its classical beauty with smart and sustainable traveling solutions."
According to Ofo, its distinctive yellow bikes are already available in the streets of Milan, Italy and the number there is expected to grow to 4,000 in early October.
"Milan is one of the capitals of sharing mobility. For a long time, citizens have demonstrated they really enjoy this type of service," said Marco Granelli, mobility and environment councilor of Milan.
"We will soon have more than 17,000 shared bikes, which means one for every 80 residents," Granelli added. "We just launched free-floating bike sharing, which allows greater usage, even outside the city center. The Ofo yellow bikes have been active for a few days now. We are sure they will perfectly integrate into Milan's public transport network, making it easier to move around for those who live and work in the city."
In Moscow, Russia, Ofo's shared bikes are set to be available in spring 2018, when the trial launch starts. The bikes will be customized to meet local standards and equipped with GPS/Glonass trackers.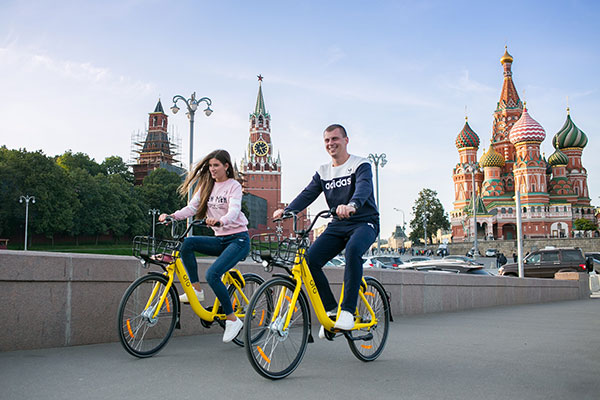 Two local residents ride Ofo bike near the Kremlin and the Red Square in Moscow, Russia. [Photo provided to chinadaily.com.cn]
Ofo said it would work closely with the Department of Transport to deliver high-quality localized products and services to the Russian market.
"DoT follows with great interest all innovations in the transport sphere aimed at increasing transport mobility," said Alina Bisembaeva, deputy head of the Moscow department for transport and road infrastructure development. "We see that the dockless bike sharing system is spreading around the world. Therefore, we find it an interesting idea for Moscow and are ready to test it in Russian conditions."
Ofo co-founder John Yang said, "We think mega cities like Moscow will find our service effective in solving the 'last mile' challenge, and we believe there is great potential across Russia for the service."
To spread Ofo's vision of smart urban cycling, the company chose its cities in the Netherlands carefully. Both the renowned cycling city of Groningen and the famous port city of Rotterdam will operate its dockless shared bikes.
The company said it would help the Groningen government facilitate the smart transportation plan, with smart solutions via its location services, which allow cyclists to choose from a wide range of routes near them.
Founded in 2014, Ofo offers riders convenient bike rental services that allow users to rent and park dockless shared bikes anywhere they prefer.
The Beijing-based company, valued at more than $2 billion after raising $700 million in its latest round of financing in July, has more than 10 million bikes in 13 countries globally.
It has generated more than 25 million transactions per day and provided bike-rental services for over 200 million global users.