The Nanyang Transportation Bureau signed a strategic agreement with bike-share company Ofo on Aug 31, to cooperate in the fields of urban traffic, big data sharing and smart city construction.
Under the agreement, the bureau will exert its superiority in urban transportation management to guide the healthy growth of Ofo and its signature yellow bikes in Nanyang. Meanwhile, Ofo, with its big data in travel and adeptness in operation, is expected to help relieve the Central Chinese city's congested traffic system.
Wang Zhikai, head of the bureau, said the local government is expected to see standardized development of shared bikes in the city. The city is working on the construction of an easy and smooth modern transport system in its central urban area, in which efficient non-motorized traffic will play a significant part.
A senior executive from Ofo, Yang Yiyan said at the signing, "As the originator and leader of shared bikes, Ofo is ready to help optimize the local public transport system and serve residents' short distance travel needs."
The first-batch Ofo yellow bikes, 50,000 in total, will start operation in Nanyang since September.
Latest statistics show that Ofo has distributed 6.5 million bikes for sharing worldwide, providing more than 3 billion travel services for users in 170 cities so far.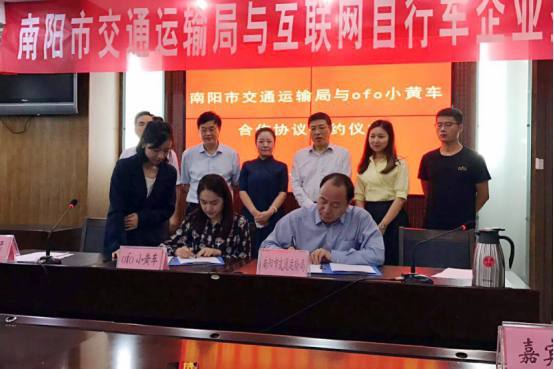 Nanyang Transportation Bureau signs a strategic cooperation agreement with bike-share giant Ofo on Aug 31.