Irrational outbound investment curbed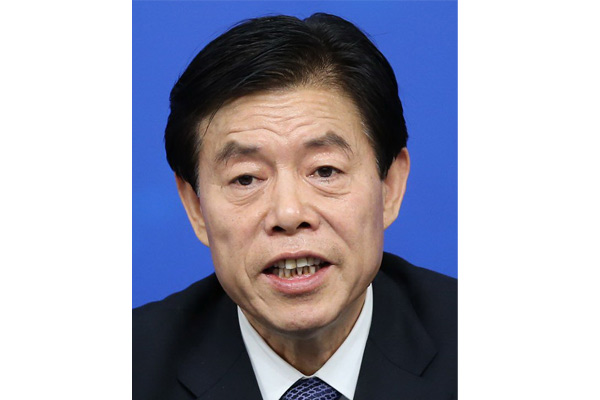 Zhong Shan, Minister of Commerce. [Photo/China Daily]
Irrational outbound direct investments made by Chinese enterprises have been curbed as the world's second-largest economy strives for the healthy development of this field, high-ranking officials said.
In the first three quarters, the ODI in non-financial sectors reached $78 billion, with structure prioritized and no increase in real estate, sports or entertainment, Ning Jizhe, vice-minister of the National Development and Reform Commission, said at a news conference hosted at the press center of the 19th CPC National Congress on Saturday.
Minister of Commerce Zhong Shan said irrational ODI has been curbed with strengthened risk management in such deals.
Zhong, also a delegate of the 19th National Congress of the Communist Party of China, said on Thursday that China has overseas assets of $6 trillion and the ODI increased by $660 billion in the past five years.
The country has become a net capital exporter from a net importer, a change that corresponds to its economic development and economic laws, he said.
Last year, Chinese investments created 1.5 million jobs in destination countries while contributing $30 billion in taxes there, Zhong said.
The minister listed some of the changes in China's outbound investment, which has seen its structure evolve with continuous quality improvements. He said Chinese investors have turned to high-tech and capital-intensive companies from small and labor-intensive industries in the past. The past few years have seen Chinese investors making deals in developed countries while they mainly used to find opportunities in developing economies, he said.
China's outbound investment, starting later than other countries, still lacks experience and faces some challenges, Zhong said. But the challenges are "difficulties in the process of progress", he said.
Over the past few years, irrational outbound investment had consumed a large amount of foreign exchange reserves. These remarks were the latest official stance to better manage outbound investment.
In August, the State Council released a guideline that aims to further regulate and promote healthy development of China's foreign investment. Chinese enterprises are encouraged to invest in infrastructure projects that help promote the Belt and Road Initiative, in addition to cooperation with high-tech companies from overseas.
They are also encouraged to make investments that promote cooperation in agriculture and the service sector with other countries. However, the guideline said outbound investment will be restricted in areas such as real estate, hotels, movie theaters, entertainment and sports clubs.
The guideline better guides and supports eligible enterprises to make real and legal investments in other countries while guarding against risks, said Ning, adding that legislation is being made for ODI to promote a healthy development.