Innovation is key to the future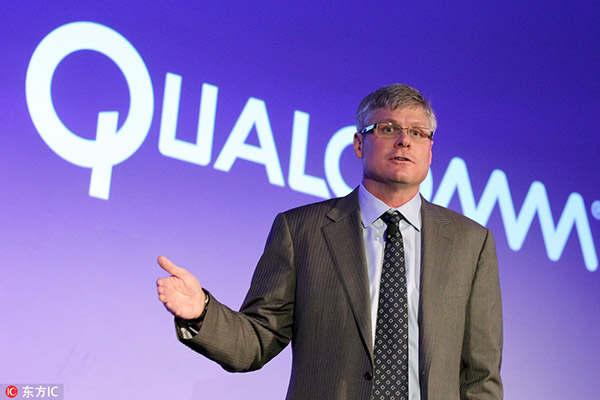 Steve Mollenkopf, CEO of Qualcomm. [Photo provided to China Daily]
Editor's Note: The 19th National Congress of the Communist Party of China starts today. In the runup to the meeting, China Daily interviewed business leaders from major multinational companies for their views on economic developments here and the country's global leadership role.
Steve Mollenkopf is the CEO of Qualcomm Inc, a multinational semiconductor and telecoms group based in the United States.
What three words would you use to describe China today?
Innovative. Collaborative. Green.
There is a growing global consensus that innovation-based development is an imperative for sustainable economic growth across the world. And the Chinese government has reiterated that innovation is the primary driving force for development.
The country is working hard to integrate itself into the global innovation network, while optimizing the allocation of resources in a collaborative way. Qualcomm has supported Chinese smart device manufacturers in their global goal and we are delighted to see them gaining overseas success.
The government has also attached great importance to ecological protection in recent years. During my visits to China, I have been impressed by the considerable efforts toward improving the environment.
What is the biggest challenge China faces and how can the country overcome it?
All nations and economies, including China, face the challenge of sustaining innovation. For example, entrepreneurs risk huge investments in research and development, while innovation will be hindered if a return is not guaranteed.
An incentive mechanism is needed to allow inventors to make bold investments and unlock creativity. A good policy structure and framework, including the enforcement of intellectual property rights (IPR), would protect and incentivize innovators and entrepreneurs.
The government has stepped up its efforts in IPR protection in the past five years, and innovators are now more assured that their inventions, if successful in the market, will be protected and rewarded.
Could China's experiences be used to solve global problems?
In certain parts of the world, the "digital gap" has affected people's economic, political and social life. It has become a pressing problem in the information era.
It is admirable that President Xi Jinping has made poverty alleviation a top political priority for the Communist Party of China and the government at all levels.
We support efforts to encourage operators and enterprises to bridge the digital gap through improved telecom infrastructure.
In fact, our corporate social responsibility program, Wireless Reach, has helped bridge that gap.
As a Fortune 500 company, what sectors do you think offer the most opportunities for development?
Wireless technology has played a crucial part in industry as a whole. Next generation, or 5G, will be widely adopted by nearly all sectors, and will redefine work procedures and rewrite the rules of economic success.
According to an independent research report, entitled the 5G Economy and commissioned by Qualcomm, this technology will help produce $12.3 trillion of global economic output by 2035. In China, the 5G value chain will help produce $984 billion in output and create 9.5 million jobs.
Another promising sector is the internet of connected vehicles. This is expected to increase productivity and sales value, as well as improving user experience and environmental quality.
It will also reduce traffic problems and fatality rates. Our recent acquisition of NXP (Semiconductors NV, a global manufacturer based in the Netherlands) is part of our strategy to expand into this sector.
What factors will boost China's growth this year and in 2018, and what are the challenges facing the economy?
Chinese enterprises are involved in areas such as 5G technology, artificial intelligence, the internet of things, big data, integrated circuits, robotics, and virtual and augmented reality.
During the next few years, these areas will serve as engines for innovation and trigger economic growth. I am pleased to see that Qualcomm is working closely with Chinese companies in these fields.
What opportunities will the Belt and Road Initiative throw up for China and the rest of the world?
Information interconnectivity is not only the basis but also a priority of the Belt and Road Initiative. This is fueling the "going global" strategy among Chinese telecom companies.
In 2016, we established the Shenzhen Innovation Center to support the overseas development of domestic manufacturers. With the combination of their efforts and support from Qualcomm's technologies, Chinese companies have made outstanding progress in overseas expansion.
Our footprint is in various locations across the country, including the server chipset joint venture in Guizhou (province) and the internet of things joint venture in Chongqing. We also have a testing facility in Shanghai, the innovation center in Shenzhen, as well as our branch in Xi'an (Shaanxi province). This has laid the foundation for our support for the Belt and Road Initiative.
What are the most innovative trends and products in China?
There are so many such as high-speed rail, mobile payments, bike-sharing and online shopping. These have played a significant role in changing the way people live and work in China. Not surprisingly, the last three are powered by wireless connectivity technology.
For Qualcomm, we have teamed up with China Mobile (Communications Corp) and Mobike (also known as Beijing Mobike Technology Co) to support bike-sharing with our leading internet of things and mobile security technologies.
We have also collaborated with Chinese enterprises, such as Xiaomi (Corp), to enable "high-speed railway mode" for smartphones, which guarantees a stable signal and internet access for travelers.
China is known as a manufacturing giant, but what will be the country's "calling card" in the future?
In the long run, China will transform from a "manufacturing power" to an "innovation powerhouse". Next generation networking, artificial intelligence, internet of things, big data and smart devices will be the driving forces behind this change.
By upgrading the country's industry, China's economy will be fueled by more intelligent and high-end manufacturing. In fact, we are working extremely close with our Chinese partners to foster innovation in those areas.