Forex reserves hit high for 2017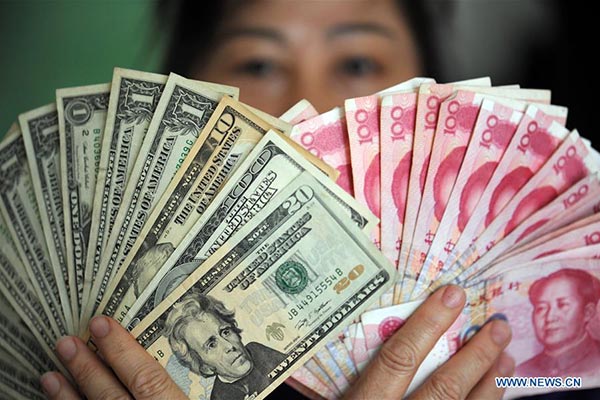 A residents shows China's yuan and US dollar banknotes in Qionghai, South China's Hainan province, Jan 7, 2016. [Photo/Xinhua]
China's foreign exchange reserves in September rose to their highest level so far this year to reach $3.11 trillion, marking growth for the eight straight month, as capital outflows eased thanks to the stronger renminbi, central bank data showed on Monday.
The reserves were up by $17 billion last month, slightly higher than the market expectation of around $16 billion, while the increase in August was $10.5 billion, according to the People's Bank of China.
It was the first time that the country's foreign exchange reserves had grown for eight consecutive months since June 2014.
A statement from the State Administration of Foreign Exchange said on Monday that stabilized and more balanced cross-border capital flows, together with the increased value of foreign exchange reserve investment, had boosted the growth.
"The base to maintain stable cross-border flows will be stronger in the future," said the statement.
Guan Tao, former director of the international payments department at SAFE, said that capital outflow pressure has significantly eased as the yuan has seen solid appreciation since August.
According to data from the Ministry of Commerce, in the first half of this year, the net outflow of overseas direct investment was $41.1 billion, down 67 percent year-on-year, while the net inflow of foreign direct investment was $55 billion, marking a surplus of cross-border direct investment.
"The reverse of capital flows reflected more rational investment behavior of Chinese companies after the government tightened regulation on outboard mergers and acquisitions," said Guan.
The yuan's daily exchange rate reference was 6.6493 per dollar on Monday, while the onshore spot exchange rate climbed to 6.6285 at the close.
It has gained more than 7 percent against the dollar through early September although it has softened recently.
The yuan is expected to see both up and down fluctuations in the future, while the foreign exchange reserve will remain relatively stable, said a research note from Shenwan Hongyuan Securities.
The central bank also released data about gold reserves, which fell to $76 billion in September, down $1.7 billion in August.