China leading in green energy growth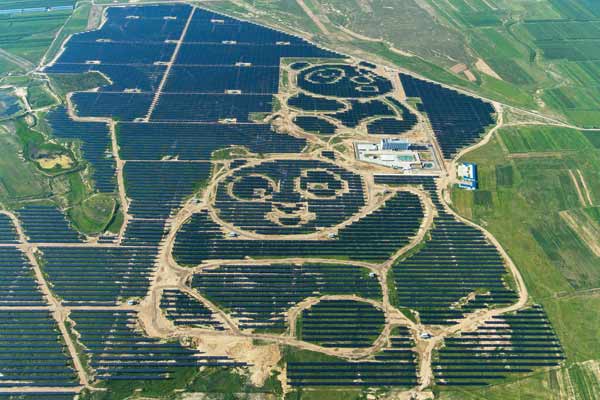 Solar power projects, such as this one shaped like giant pandas in Datong, Shanxi province, are now a common sight. [Photo/VCG] 
China accounted for more than 40 percent of capacity growth in global renewable energy in 2016, which was a record year for worldwide clean energy additions, according to a new study.
The International Energy Agency, a Paris-based policy advisory organization also known as the IEA, found that renewables accounted for almost two-thirds of new power capacity last year. For the first time, solar additions rose faster than any other fuel, including coal.
Last year, new solar capacity around the world grew by 50 percent, reaching more than 74 gigawatts, with China accounting for almost half of that expansion. China is also the world market leader in hydropower, bioenergy for electricity and heat, and electric vehicles.
Fatih Birol, executive director of the IEA, estimates that renewable capacity will grow by about 1,000 GW-or half the current global capacity in coal power-by 2022.
"What we are witnessing is the birth of a new era in solar photovoltaics (panels)," Birol said. "We expect that solar photovoltaic capacity growth will be higher than any other renewable technology through 2022."
In its report, the IEA labeled China as the world's "undisputed renewable growth leader", driven by concerns about air pollution and capacity targets that were outlined in the country's 13th Five-Year Plan(2016-20).
The IEA report said China represents half of global solar photovoltaic demand, and Chinese companies manufacture around 60 percent of the world's panels.
The IEA states that, due to the size of the market, policy developments in China will have global implications for solar energy demand, supply, and prices.
The report identified the growing cost of renewable subsidies and grid integration in China as potential barriers to further growth, and noted that China's renewable energy policies are being modified in order to address these challenges.
China is moving away from its feed-in-tariff program to a quota system with green certificates. The IEA states that these new policies, together with power market reform, new transmission lines, and the expansion of distributed generation, are expected to speed up the deployment of solar energy.
Under an accelerated case -where government policy lifts barriers to growth-IEA analysis finds that global renewable capacity growth led by China could be boosted by another 30 percent, totaling an extra 1,150 GW by 2022.
Globally, falling auction prices for wind and solar projects have contributed to the rise in new renewable energy capacity.
Last month, the United Kingdom government held a wind farm auction at which two companies agreed to build facilities for 57.50 pounds ($76) per megawatt hour. The price is half what new wind farms were built for just two years ago, and means off shore wind power will be cheaper than nuclear energy in the UK for the first time.
Researchers from the UK and China recently announced five new projects to develop the"next generation" of technology in wind and wave power.
The UK's Natural Environment Research Council and the Engineering and Physical Sciences Research Council have pledged 4 million pounds in funding during the next three years for the projects, which will also receive funding from the National Natural Science Foundation of China.