CBRC cautions on surging consumer loans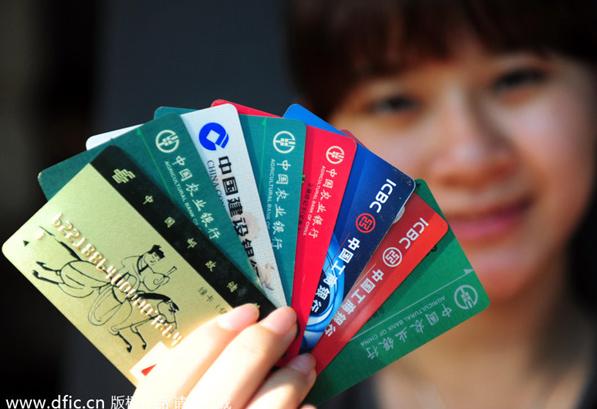 A Chinese woman shows credit cards and other bank cards in Qionghai city, South Chinas Hainan province, April 14 2012. [Photo/IC]
China's top banking regulator on Friday warned surging consumer loans may pose potential risks to the country's lending system.
It also cautioned against a fast rise in consumer leverage ratio.
"Banking regulators encourage banks to develop consumer finance but the business must be operated according to high standards," said Xiao Yuanqi, chief of the Prudential Regulation Bureau of the China Banking Regulatory Commission, at a news conference.
"Banks should assess each consumer's repayment ability comprehensively and authentically, and avoid pushing up the consumer leverage ratio, and be careful not to increase the risk of a bubble in certain sectors such as real estate," Xiao said.
"We should learn from the lessons of the subprime mortgage crisis in the United States."
Recent inspections on banks by CBRC branches and the People's Bank of China, the central bank, have found that some consumer loans were used to make a down payment for home purchases or as an investment, rather than using them for travel, education, home renovation or to buy consumer durables.
Such misuse of consumer loans is tantamount to violation of banking regulations, he said.
To get the consumer finance segment back on track, banks must review consumer loans, track their usage and examine the repayment ability of borrowers, he said.
Latest half-yearly financial results showed that many commercial lenders in China have made retail banking a strategy to transform their business, due to a decrease in high-quality corporate borrowers, a boom in the fintech sector and tightening financial risk controls in the first half of this year.