China's innovation tops 'many advanced economies'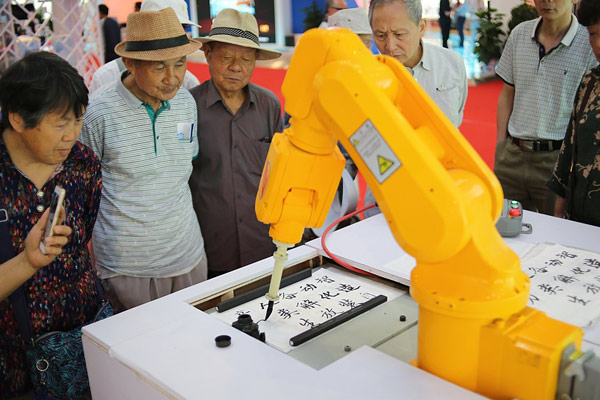 An industrial robot that can practice calligraphy draws visitors' attention at the 10th Expo Central China held in Hefei, Anhui province, May 18, 2017. [Photo/VCG]
Out of 137 economies surveyed worldwide, the Chinese mainland ranks 27th in terms of overall competitiveness while in innovation, it is "on par or even better than many advanced economies," the Geneva-based World Economic Forum said on Wednesday.
The Chinese mainland placed between South Korea and Iceland in the annual ranking based on factors contributing to productivity and prosperity, according to a report released by the forum.
The mainland ranks highest among the BRICS group of five emerging markets and moved up to 27th, one place higher than in last year's assessment. BRICS also includes Brazil, Russia, India and South Africa.
Switzerland ranks as the world's most competitive economy, narrowly ahead of the United States and Singapore. Hong Kong moves up three spots to sixth place as Japan dropped one spot to ninth.
The authors of this year's report examined the data back to 2007. They said 10 years after the global financial crisis, many economies remain ill-prepared for the next wave of innovation and automation.
David Aikman, chief representative of the World Economic Forum's China operation, said the most important development in the past decade has been the mainland's emergence as an innovation powerhouse.
"Various indicators suggest its innovation capacity is now on par or even better than that of many advanced economies. More generally, we observe that the country's innovation ecosystem has improved significantly," Aikman told China Daily on Wednesday.
Aikman also said that Chinese companies are becoming much more sophisticated and are rapidly moving up the value chain, while at the turn of the century most exporting firms were merely suppliers of basic manufactured goods.
China has made "steep progress" in innovation and in science and technology in recent years, underpinned by educational strides, said Reinhilde Veugelers, professor of Leuven University of Belgium.
Klaus Schwab, forum founder and executive chairman, said, "Countries preparing for the fourth industrial revolution and simultaneously strengthening their political, economic and social systems will be the winners in the competitive race of the future."