Huawei enters full-screen arena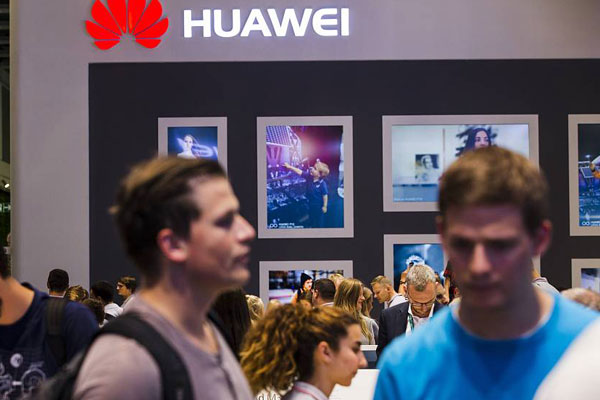 Visitors are attracted by products at Huawei stand at the International Funkausstellung (IFA) 2017, the world's leading trade show for consumer electronics and home appliances, in Berlin, Sep 2, 2017. [Photo/VCG]
Chinese tech giant Huawei Technologies Co Ltd has officially launched its first quad-camera full-screen smartphone Huawei Maimang 6 in Beijing, marking its first attempt to embrace the full-screen handset era.
The Maimang brand, a joint effort by both Huawei and China Telecommunications Corp, the country's third-largest mobile carrier, is targeting the younger generation.
Featuring a 5.9-inch full screen, the new gadget offers an aspect ratio of 18:9. Also boasting a 3,340 mAh large battery, the phone comes with 4GB of RAM and 64GB of ROM.
The Maimang 6 is Huawei's first quad-camera smartphone, featuring 13MP and 2MP dual cameras on the front and 16MP and 2MP dual-rear cameras, which can add virtual effects to photos. Priced at 2,399 yuan ($362.5), the product will be on sale on September 28.
He Gang, head of the smartphone division of Huawei, said the full-display design is deemed a revolutionary evolution in the smartphone's development.
"A good quality full-screen smartphone should enhance users' experiences," he said. "And I believe we will usher in a new trend in the market."
Li Hua, general manager at Tianyi Telecommunications Terminals Co Ltd, a subsidiary of China Telecom, said the company would arrange needed marketing resources for the new product.
"The Huawei Maimang 6 smartphone will be a key part of our push for all-network access smartphones," Li added.
At present, the bezel-free design is a new trend in smartphones, with leading brands such as Apple and Vivo releasing a series of full-screen products.
James Yan, research director at Counterpoint Technology Market Research, said smartphone vendors are making a big push to generate more full-screen products, as they attempt to create new momentum in the fiercely competitive field.
"As Apple Inc recently unveiled their new full-screen iPhones, more smartphone vendors will join the race to catch up with the new trend in the next half of this year."