China's top ride-sharing company calls for building cities around people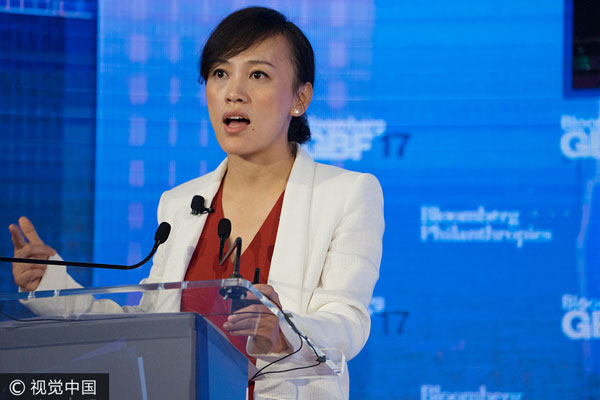 Jean Liu, president of Didi Chuxing, speaks during the Bloomberg Global Business Forum in New York on Sept 20, 2017.[Photo/VCG]
NEW YORK - Future cities should be built around people, not machines, said Jean Liu, president of Didi Chuxing, a top Chinese ride-sharing company.
Cities should empower people rather than stress them out, and should have more spaces for trees and water, said Liu at the Bloomberg Global Business Forum held in New York City on Wednesday.
She said everyone needs to make contribution to that goal.
"There are young companies who are trying to make smaller steps, which are changing the city bit by bit. And we are one of those young companies," she said.
Twenty-five million rides take place on the platform of Didi Chuxing every day. Twenty cities are working with the company to completely redesign their traffic signals and vehicle lanes, according to the company.
"I think if every one of us steps up, contributes, one day we'll be able to convert more motorways and parking lots into parks and schools," said Liu.
"And one day, we may find inner peace, even living in the busiest city in this world. And one day, we will give cities back to people," she added.