Cruise industry's growth buoyant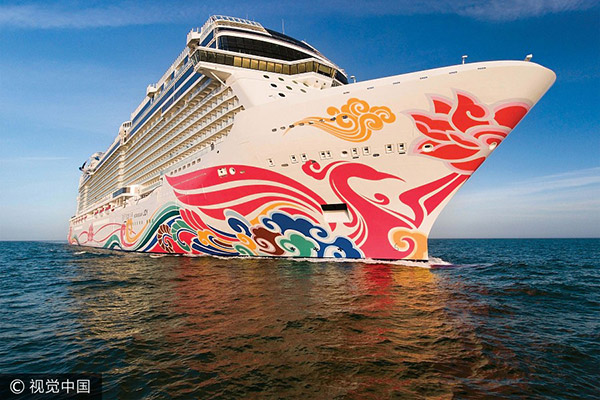 This undated photo shows the Norwegian Joy, the largest cruise ship in the Asia-Pacific region was built in Germany. The 'Breakaway Plus' class cruise ship was designed specifically for the Chinese market.[Photo/VCG]
The explosive growth of China's middle class is driving growth in the cruise business, making China the world's second largest cruise market by number of passengers after the United States.
Experts and business insiders say a golden age for the cruise industry is coming with more Chinese people willing to pay for ocean views, onboard entertainment and exploration to lands nearby and distant.
The number of trips by cruise ship travelers leaving from Chinese home ports reached nearly 4.3 million in 2016, nearly double that of a year ago. At the same time, Shanghai has become Asia's largest cruise port city, according to the 2016-2017 China Cruise Industry Development Report published on Friday.
The annual report, often called the white paper of China's cruise industry, is jointly published by China Cruise & Yacht Industry Association under the direction of the National Development and Reform Commission, Asia Cruise Academy at Shanghai Maritime University and the China Ports& Harbors Association.
In 2016, China's 11 major cruise ports served as home ports for 927 cruise ships, representing year-on-year growth of 72 percent. Passenger trips from Chinese home ports surged 93 percent to 4.29 million.
"The year 2017 is going to be a turning point for China's cruise industry, which entered its golden decade starting this year," said Zheng Weihang, executive vice-president of China Cruise & Yacht Industry Association.
Cheng Juehao, deputy secretary-general of CCYIA and a professor at Shanghai Maritime University, said that in the past 10 years, China has nurtured the cruise industry, which has gained global strategic influence thanks to the rising spending power of Chinese consumers.
The first made-in-China cruise ship is being built at Waigaoqiao, Shanghai, by a joint venture of the China State Shipbuilding Corp and Italy's Fincantieri SpA, the world's largest builder of cruise ships. It will be delivered in 2023, followed by a delivery rate of one vessel per year between 2024 and 2028.
Shanghai has outperformed other port cities in attracting capital and passengers. In 2016, Shanghai's Wusongkou Cruise Port, the busiest in Asia, welcomed 471 cruise ships, up from 60 vessels in 2012. Wang Younong, chairman of Shanghai Wusongkou International Cruise Terminal Development Co, recently told China Daily that the port is aiming to handle up to 5 million passenger trips by 2023, from 2.85 million from last year.
The growing capacity of China's cruise market has also attracted global cruise companies to increase their stake here.
Princess Cruises, which is part of Carnival Corporation & plc, this year debuted the cruise ship Majestic Princess, which is specially tailored for the China market, with its home port in Shanghai.