C929 fuselage will be made in China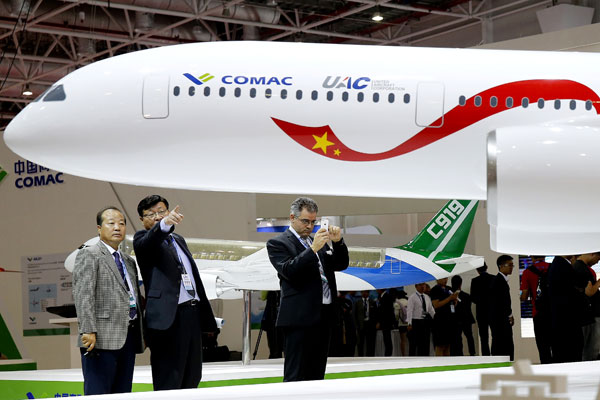 A C929 aircraft model is displayed at an aviation exhibition in Zhuhai, Guangdong province, in November 2016.[YIN LIQIN/CHINA DAILY]
Russia to design wings; composite materials to make up bulk of aircraft
China will design and make the fuselage of the C929, while Russia will design the wings of the wide-body passenger aircraft, which is currently under development, said Commercial Aircraft Corp of China on Friday.
Better known as COMAC, the Chinese plane maker, which will build the new aircraft with Russia's United Aircraft Corp, disclosed several fresh details about the bilateral project at the Aviation Expo China 2017 in Beijing.
Although the main design center is in Russia, Shanghai will also have its own design office.
COMAC said the C929 is being developed by China-Russia Commercial Aircraft International Co Ltd, a joint venture.
The jet, with a range of up to 12,000 kilometers, is expected to be delivered in 10 years.
China and Russia will each take half of the work, and send design staff for exchange visits on a non-scheduled basis, according to COMAC.
Some 51 percent of the aircraft will be made of composite materials, which is expected to make the C929 economical and efficient.
The jet could have four possible seating layouts: 280 seats in three classes; 291 seats in two classes; 310 seats in tight three classes; or 416 seats in an all-economy class, said Chen Yingchun, general designer of the C929.
Chen said the new aircraft will mainly target China, Russia and other Asia-Pacific markets.
"Its competing models include the A330 and the A350 of (European aircraft manufacturer) Airbus Group and the B787 of (US manufacturer) Boeing. Currently, we are selecting suppliers worldwide," he said.
"By the end of the year, we are likely to open tenders for the aero engine, and Rolls-Royce and General Electric are expected to join the bid. We are also trying to develop engines ourselves together with Russia."
Every three years, China and Russia will take turns to name the chairman of the joint venture, which was launched on May 22 in Shanghai.
Each country will hold four seats on the eight-member board of the company.
The C929 is a project that aims to break the duopoly of Boeing and Airbus in the wide-body passenger aircraft market.
Lin Zhijie, an aviation industry analyst and columnist at Carnoc.com, one of China's largest civil aviation web portals, said China's booming growth in international flights, especially long-haul routes, requires widebody aircraft.
"The aviation industry is a sector with marginal profits. China spends a lot of money buying wide-body aircraft from Boeing and Airbus every year," Lin said.
"If the country has its own products, it will help significantly reduce the cost of aircraft purchases, and airlines will be able to raise their profitability and offer cheaper tickets to customers."