Reform, mergers make Baowu bigger, stronger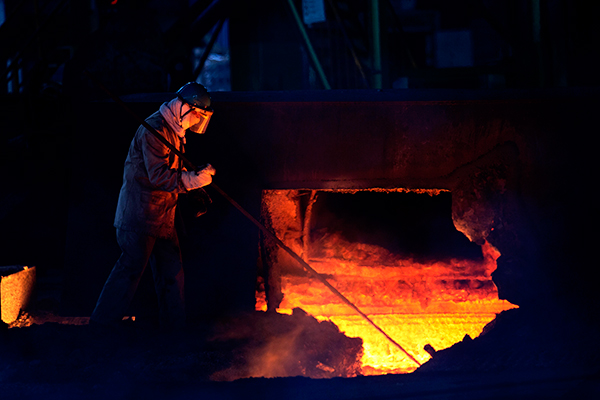 A worker takes samples of molten iron from a furnace of the China Baowu Steel Group in Wuhan, capital of Hubei province. [Photo provided to China Daily]
China Baowu Steel Group, the nation's largest steelmaker, plans to merge more iron and steel companies amid the central government's deepening of State-owned enterprise reform.
"Being a State-owned capital investment company, China Baowu's output capacity is expected to reach 20 percent of the country's total through M&A," said Chen Derong, general manger of the group, stressing that the group has overfulfilled its capacity reduction target.
Last year, the company cut output by 9.97 million metric tons and in the first half of 2017 it slashed it by a further 3 million tons, which has reached 84.1 percent of the goal set for the period from 2016 to 2018.
As a pilot company of State-owned capital investment enterprises, the newly merged group has a new function of State-owned capital operation, transforming from an industrial company into a capital investment group.
"We are going to integrate more steel companies to obtain an advantageous scale effect," said Chen.
China's around 500 steel companies produced 808 million tons of crude steel last year, but the output of the 10 largest steel groups accounted for only 35.9 percent of the total, showing a low industrial concentration.
China Baowu's crude steel capacity accounted for only 7.9 percent of China's total in 2016, while Pohang Iron and Steel Co in South Korea produced 37.5 million tons last year, accounting for 54.6 percent of the country's total and Japan's Nippon Steel & Sumitomo Metal Co took 44.1 percent, data from Lange Steel Information Center show.
The State Council issued a guideline on promoting steel company mergers last September, requesting that 60 to 70 percent of steel capacity should be concentrated in the top 10 companies by 2025.
The major difficulty in industry concentration is that ownership belongs to different levels of governments or organizations, with some of them privately owned, said Wang Guoqing, chief analyst from Lange Steel Information Center.
In this case, China Baowu set up the Siyuanhe Steel Industry Structure Adjustment Fund together with WL Ross & Co from the United States, Sino-American Green Fund and China Merchants Group in April, with capital of 40-80 billion yuan ($6.1-12.2 billion).
Operated professionally and market-oriented, the fund will help deal with the different ownerships, so as to accelerate M&As in the steel industry, implement mixed ownership reform and clear out "zombie" enterprises.
"We are now actively contacting with some target companies for further mergers," Chen said.
China Baowu achieved revenue of 220.4 billion yuan in the first half of the year, rising 61 percent year-on-year, and its profit of 8.66 billion yuan was up 100 percent over the same period, showing the benefits of integration.
"Sticking to transforming and upgrading, the merged company aims to build an environmental-friendly, high-end and intelligent steel industry," said Chen.
"To build an internationally competitive world-class group, we will focus on the coordinated development of related sectors, including new-material process, modern trade logistics, industrial finance and industry services," he added.
China Baowu has also concentrated on cost reduction and greater efficiency, so as to alleviate its heavy financial burden and bloated bureaucracy, issues faced by most State-owned enterprises.
Baoshan Iron&Steel Co Ltd cut its costs by 4.1 billion yuan in the first half of this year, through cutting costs related to investment, labor, technology and purchasing.
Company ensures workers are smoothly transferred
In the process of eliminating overcapacity, China Baowu Steel Group has taken steps to ensure surplus employees can smoothly exit the company either to new jobs or early retirement.
"We have set up a job transfer and employment platform for these personnel, providing several kinds of exit channels, including internal transfer, training, self-employment and retirement," said Chen Derong, general manger of China's largest steel-maker.
Most employees of the group's new subsidiaries, like material factories and Ouyeel, a business-to-business platform, are from internal recruitment.
"They receive necessary training, before going to the new position," said Chen, adding that although some employees are more than 40 years old, their skills and qualifications are comparatively higher than recruits from outside the company.
Thanks to its strong links with local labor authorities, China Baowu has also helped to find alternative employment for some of its employees.
For example, some basic-level managers from Shanghai Stainless Steel Co were assigned to work for residential communities in the city.