Li: Make way for new growth drivers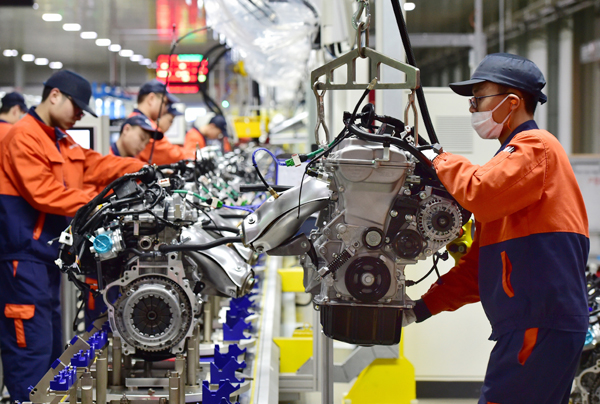 Technical workers assemble engines at a plant in Yiwu, Zhejiang province.[Photo provided for China Daily]

Companies should consider outside investment, mergers, premier says
Premier Li Keqiang promised more incentives to boost high-end manufacturing in China during a visit to Huaxiang Group, a private steel-casting company in Linfen, Shanxi province-part of a two-day visit to the area on Monday and Tuesday.
The company's moves to retain top-level professional engineers have brought success, turning it into a major supplier for a number of overseas automobile companies. Huaxiang provides an annual salary of 3 million yuan ($456,000) to some of its top craftsmen, four times that of the company's CEO.
Li spoke warmly about the approach as he talked with some of the craftsmen from whom young workers have learned, noting that providing better incentives to lure talent in high-end manufacturing is also a key strategy for the country as it seeks to shift from old economic drivers to new ones.
"We should pass on the spirit of craftsmanship from one generation to another, so that the idea of Made in China will be competitive not only in terms of prices but also in quality," Li said.
Also on Tuesday, Li visited Linfen Iron and Steel Co to learn about the region's efforts in cutting outdated capacity. The company, which is affiliated with Taiyuan Iron and Steel (Group) Corp, stopped most of its outdated operations in 2016, and 10,000 workers have been relocated with new jobs. Among them, more than 2,500 have started their own businesses.
"These workers may be seen as a burden for a company with outdated capacity, but their talent may be in demand when they find new and more suitable jobs," Li said, calling on companies to focus on developing high-end products.
Companies that rely on traditional models should be open to private investment, mergers and reorganization, Li said, adding that China is determined to phase out outdated and excess industrial capacity as a key part of its structural reform, especially as coal prices have been rising again in recent months. The idea is to truly make room for new economic growth drivers, he said.
Li also visited the Shigejie Coal Mine, which ceased production of low-quality coal in 2016, and poverty-stricken Chengzhuang village in the Taihang Mountains to learn about local poverty alleviation and medical services.