Govt set to give AI sector huge policy boost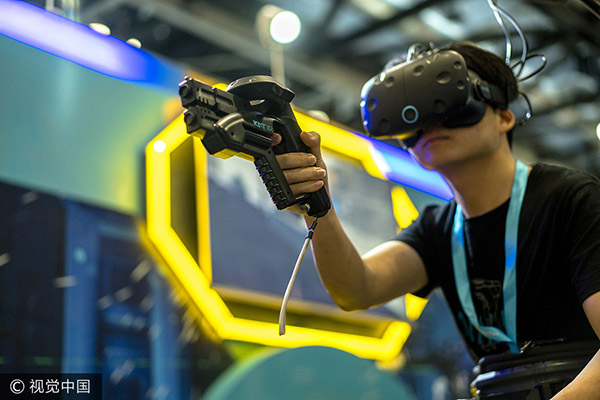 A visitor plays a VR game at the 3E-Beijing International Consumer Electronics Expo, July 8. [Photo/VCG]
China will unveil a slate of policies, including tax cuts and setting up national artificial intelligence innovation centers, to beef up support for AI and clear legal risks, local media reported.
The Ministry of Industry and Information Technology is teaming up with other ministries and related departments to draft new policies to better cultivate the AI industry, Economic Information Daily reported on Thursday.
Favorable tax policies will be rolled out to encourage small and medium-sized enterprises that are working on AI. More efforts will also be made to open government data and experiment with new ways to tap into data, the report said.
Meanwhile, new policies will be unveiled to channel more resources into AI research, in the hope of advancing innovation capability. More innovation centers will be established to achieve breakthrough, it added.
The intensified efforts to push AI came on the heels of China's ambitious plan to build a 1 trillion yuan ($147.9 billion) AI core industry by 2030, which is expected to stimulate as much as 10 trillion yuan in related business.
Lu Xi, an official at the Ministry of Industry and Information Technology, said the ministry is leading efforts to draft detailed AI industrialization plans and set up relevant industrial alliances, Economic Information Daily said.
Shanghai, Anhui, Jiangsu and other provinces are also accelerating steps to work on local versions of AI industry policies, it added.
Wu Hequan, an academician from the Chinese Academy of Engineering, said rolling out detailed policies to advance the industrial use of AI is an important way to cultivate an AI ecosystem.
According to Economic Information Daily, new regulations and laws are also in the making to protect privacy and to ensure that legal responsibility will be properly shouldered in the AI age.
A report from consultancy firm PricewaterhouseCoopers forecast that AI will contribute $15.7 trillion to the global economy in 2030 and China will be among the biggest beneficiaries of that, with a 26 percent boost to its GDP by 2030.
Robin Li, CEO of Baidu Inc, said: "China will lead the world in AI development, since the country has about 700 million internet users who are highly responsive to new technologies. This is an edge no other countries can rival."
Li said in March that the company had invested more than 20 billion yuan ($3.1 billion) into AI R&D in the past two-and-a-half years. It is now leading the country's first national lab on deep learning, and is ramping up resources to achieve its plan of mass-producing self-driving cars in several years.