Glass is more than half full for Perrier and San Pellegrino as sales surge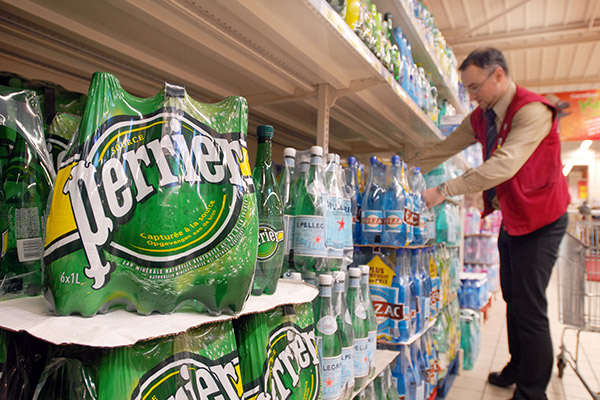 Perrier bottled water, produced by Nestle SA, is popular at most grocery stores. [Photo/Agencies]
Perrier has made quite a splash since Nestle SA launched the brand in China 20 years ago.
Famous for its elegantly-shaped green bottle, the sparkling mineral water label has enjoyed unprecedented high growth this summer.
Sister brand San Pellegrino has also cut a dash in the more upmarket restaurants across the country.
"This year has been a very good one for both brands," said Phillip Chilton, business director of Nestle Sources China's International Brands division.
Perrier, which costs 9 yuan ($1.3) for a 330-milliliter bottle and San Pellegrino, which retails at 8 yuan for a 250 ml bottle, are the leading labels in China's carbonated mineral water market.
Annual growth for the brands has been 30 percent annually during the past five years since 2009, the group reported without revealing detailed financial figures.
Nestle Waters also recorded sales of 4 billion Swiss francs ($4.17 billion) in the first half of the year.
In June, it announced an ambitious plan to increase Perrier's production by 40 percent to two billion bottles by 2020.
This was part of a 200 million euro ($238 million) investment at the brand's bottling plant in France.
"I think we have reached a (key) point, where you have the slow consumption of a product before all of sudden you have this boom," Chilton said as he tried to explain surging sales.
To retain the momentum, San Pellegrino announced last month that Chinese actor Huang Xuan would be a global ambassador for the brand.
This was the first time it had gone down the "celebrity endorsement" road in a decade.
"San Pellegrino is well known internationally, but maybe not enough by Chinese consumers," Chilton said.
"It is a way for us to more quickly introduce the brand to a larger group of consumers and to help them to connect with it," he added.
Huang is best known for his cinema and television roles in films and series such as Blind Massage (2014), The Legend of Mi Yue (2015), The Interpreter (2016) and Extraordinary Mission (2017).
His youthful approach is the right image for a brand such as San Pellegrino, which is just as much about lifestyle as taste.
"It's never just the water, but also the packaging, the brand image and emotional connections," Chilton said.
"This can be created online through a reflection of their lifestyles and make them feel, 'This is for me'," he added.
A 30-second video of Huang eating Italian food and gazing at upmarket fashion in Milan, just like an ordinary tourist, has been uploaded on various Chinese portals during the past three weeks.
The campaign, together with the choice of the 32-year-old star is aimed at potential San Pellegrino customers.
Huang is known for his literati style, which appeals to the brand's core consumers. They live in first- and second-tier cities, are well educated, and are relatively affluent.
A younger section of China's ballooning middle class, these sophisticated shoppers are helping to drive consumption in the country.
"We believe it's not that they don't like these products, it's just that they haven't been exposed to them yet," Chilton said.
"But with the exposure through overseas travel, education and the Internet, this market, more than anywhere else in the world, is continuing to grow," he added.