Dedicated followers of chinese fashion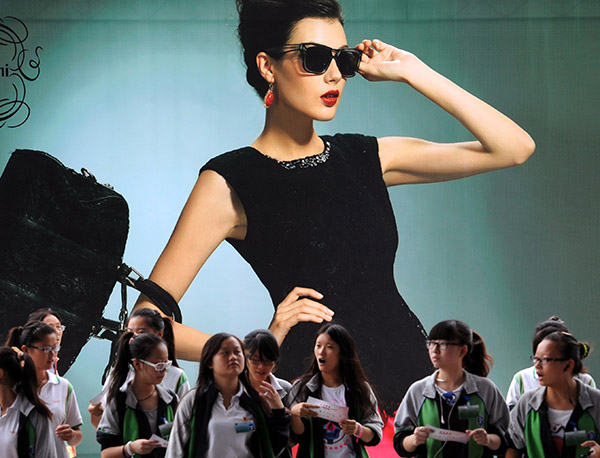 Visitors prepare to enter an international fashion fair in Nanjing, capital of East China's Jiangsu province. [Photo/Xinhua]
Young shoppers have a taste for domestic brands as clothing labels target lifestyle choices and move into profitable niche markets to make an impact
They appear to be dedicated followers of Chinese fashion.
Young city consumers are starting to embrace edgy, domestic designer brands instead of cool, global marque names.
A summer survey by OC&C Strategy Consultants has revealed an interesting new trend in shopping habits as the "Made in China" label takes on a whole new meaning for the clothing industry.
In a poll of more than 2,500 Chinese shoppers, only 10 percent expressed a "dislike" for local designs, which was less than half the number in 2015.
To underline the change in attitudes, up to 46 percent said they "liked" Chinese apparel brands, which was more than double compared to two years ago.
"Supporters of local labels are mostly younger consumers (aged between 16 and 44)," said Wang Chong, an associate partner of OC&C.
"Up to 40 percent of those interviewed, who went for Chinese domestic clothing brands, came from a lower income bracket for their age," she said.
But that was only part of the picture, according to Wang, who pointed out that young shoppers are keen to demonstrate an unprecedented "desire" to express their identity through fashion.
Around 39 percent of the same group polled preferred Chinese brands because they had strong cultural elements. Another 26 percent found the style compelling.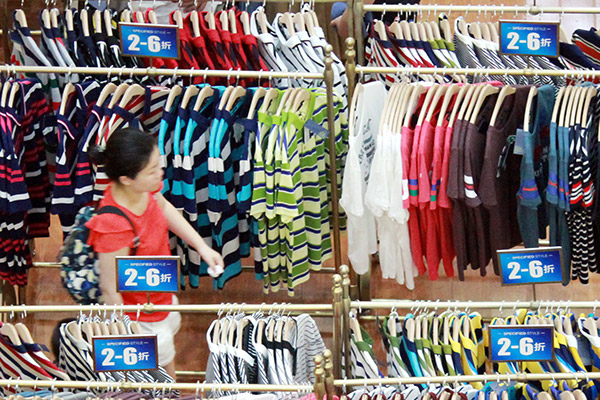 A shopper walks past the rows of trendy shirts at a store in Nanjing, Jiangsu province. [Zhu Zhu/for China Daily]
"This has translated into salient demands for products, as well as producing a retail experience that resonates on an emotional level," Wang said.
It is also great news for companies such as Peace Bird Fashion Co Ltd, which is based in the coastal city of Ningbo in Zhejiang province, and was set up 22 years ago.
In a bid to move with the times, the Chinese apparel business was transformed from a mid-market manufacturer of men's clothing into a vibrant label.
Even celebrities, such as Victoria's Secret angel He Sui and fashion blogger Han Huohuo, are willing to wear the group's clothes for commercial shoots.
Remodeling began in 2014 when Peace Bird tested the water of cross-over clothes, with well-known entertainment and consumer brands, to cater for a younger audience.
At the time, it was a brave move as most Chinese companies were busy grappling with the problems of upgrading their designs and clearing out old stock.
But Peace Bird's philosophy proved a hit with shoppers. During the past three years, the company has rolled out various ranges such as the Pepsi series and the emoji ideograms collection.
All of them are closely related to youth culture and trending crazes.
"We didn't launch a marketing campaign at a specific time to make the brand look younger," said Zou Qian, who is the director of company image planning at Peace Bird.
"We just responded quickly when we noticed some changes in the market when talking to consumers," he added.
The company has worked with French fashion consulting firm MLC to provide training for its teams of designers.
There are now 535 employed by Peace Bird and most are in their late twenties.
Last year, the group invested 81.8 million yuan ($12.3 million) in research and development, an increase of 27.9 percent compared to 2015.
This attention to detail has paid off. The company's "subbrand" Led'In now has 687 outlets across China and targets young women after rolling out a cross-over series with The Smurfs, the Belgian comic franchise, last year.
During a special promotion in May 2016, Led'In sold more than 20,000 items in one day with sales revenue topping more than 8.39 million yuan.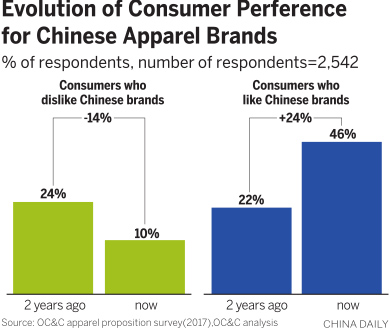 Annual turnover for Peace Bird, which has 4,145 stores here, exceeded 20 billion yuan last year.
"The things that younger consumers love will be our focus in the future," Zou said. "The target is to work like a representative of the younger generation."
As Wang, of OC&C, explained, this age group, especially those born in the 1990s, has different tastes in terms of design, materials and the personality they want to convey in their fashion.
"They are willing to pay a premium for the added value of the clothes," she said.
Naturally, this has resulted in brands which target only a niche market.
Not everybody will fall in love with their designs but they will establish a loyal clientele.
JNBY, which is based in Hangzhou, Zhejiang province, is one such label.
Founded in 1994, the group's clothes are stamped with strong Chinese characteristics, which can be seen in the color, textiles and style of the clothes.
The Hong Kong-listed company reported sales revenue of 1.3 billion yuan in the first half of the 2016-17 financial year, which ended on Dec 31, 2016.
Gross profit increased by 25.9 percent to 843 million yuan year-on-year.
Frank Zhu, the chief financial officer of JNBY, confirmed that the company's customers are mostly aged between 25 and 35.
He also pointed out that JNBY's clientele has been increasing steadily during the past four years. By the end of last year, the company had 1,498 stores in China, as well as outlets in Japan, South Korea and Israel.
"We would like to attract more young consumers to become the frequent buyers of our clothes," he said. "Although some young people will follow their idols' style, some of them prefer clothes that are different and explore personality.
"We have seen that this group is expanding," he added. "This has become one of the major incentives for us to come out with more designs."