New aerospace factory joining Chengdu park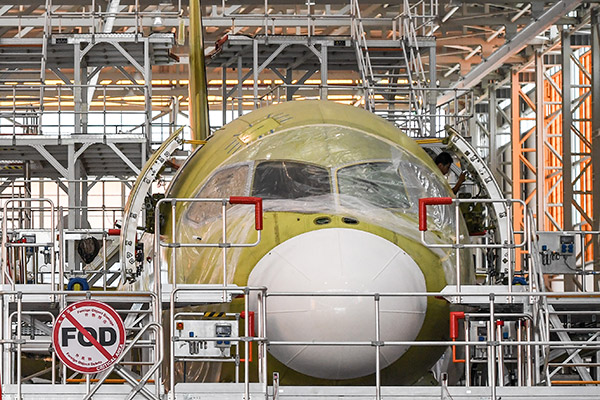 A man works on a China's home-grown C919 passenger jet at Manufacturing and Final Assembly Center of state-owned Commercial Aircraft Corporation of China, July 26, 2017. [Photo/Xinhua]
Ligeance Investments recently purchased Gardner Aerospace, leading manufacturer
Wang Lizhi, an expert taking part in the national "1,000 Talent Plan", a government-initiated global talent pool program, has helped a Chinese company to fully acquire a leading European aerospace manufacturer and opened its flagship plant in Chengdu, Sichuan province.
In June, Chinese aerospace and mining group Ligeance Investments, a subsidiary of Shaanxi Ligeance Mineral Resources, acquired the United Kingdom-based Gardner Aerospace Holdings Ltd. This is a supplier of aircraft engine manufacturer Rolls-Royce Holdings Plc and European aircraft manufacturer Airbus Group SE. The deal is 326 million pounds ($420.5 million).
A month later, Ligeance Investments launched Gardner Aerospace's largest factory in the city. Currently, Gardner Aerospace has 10 production plants globally.
Wang, vice-president of Shaanxi Ligeance Mineral Resources, and a board member of Gardner Aerospace, said the new project in Chengdu costs an investment of 600 million yuan ($91.2 million).
"Next year, when the plant would be put into production, the output value would reach 1 billion yuan. In its second year of the operation, the project is expected to create an annual output value of 3 billion yuan.
"The industrial park will strengthen its innovation capability by introducing advanced technologies and capital from abroad. Together with the management team of Gardner, we plan to further consolidate the global aerospace industry supply chain.
"The project will help to advance the domestic manufacturing level of high-temperature alloy materials and core components for aircraft engines, and push forward the localization of aircraft components. We are also likely to take some orders of the C919," he said.
Founded in the 1950s, Gardner Aerospace has been a leading aerospace-components manufacturer in Europe, and it mainly produces the surface of the leading edge of wings. Ligeance Investments said the acquisition will allow it to improve services for customers in China and other parts of the world.
Wang said he has further plans to purchase other foreign companies.
The aviation sector has become an indispensable part of high-end manufacturing in Chengdu. By 2022, the industry scale of aviation in the city is expected to reach 120 billion yuan, and will form an industry cluster of aircraft manufacturing.
Lin Zhijie, an aviation industry analyst and columnist at Carnoc.com, one of China's largest civil aviation web portals, said the successful maiden flight of the C919 proved China's capability in designing and assembling narrow-body commercial aircraft that is in line with international standards.
"A lot of Chinese aviation manufacturing companies don't have enough capital and financial strength for the research and development of high-end manufacturing, especially making those complicated aircraft components. They need external support to grow faster and produce more competitive products."