Paper-packing market reshuffles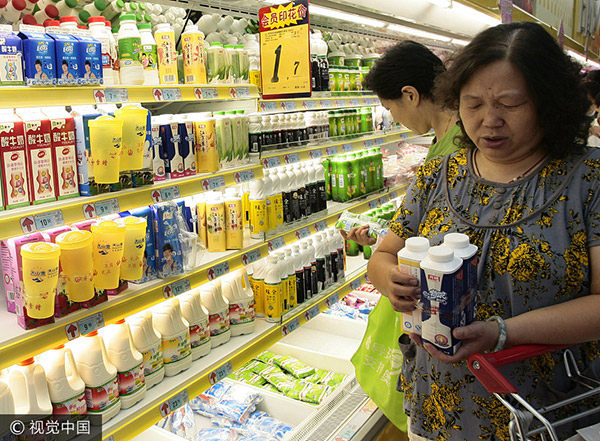 Customers buy milk at a supermarket in Nanjing, Jiangsu province. [Photo/VCG]
TetraPak's share of industry down to 60-70 percent; domestic players rise
Competition in China's bacteria-free paper-packing market has become more intense, with the consumption upgrade driving a rapid change in the market and the rise of domestic players.
Sweden-based paperpacking giant TetraPak used to hold about 90 percent of the bacteria-free paperpacking market in China, and now its market share is decreasing to about 60 to 70 percent, according to industry projections.
On July 28, TetraPak closed its factory in Foshan, Guangdong province. The factory had been running for 26 years and once dominated the market in southern China. Now, the manufacturer owns three factories in China: Kunshan, Jiangsu province, Huhhot, the Inner Mongolia autonomous region, and Beijing.
TetraPak said in a statement that it is difficult for the Foshan factory to maintain its sustainable operations, and the company will assign its production tasks to its three other factories in China.
Besides, the government had conducted an investigation for more than four years into the alleged monopoly of TetraPak. In 2016, the State Administration for Industry and Commerce issued a penalty on its monopoly and fined TetraPak a total of 668 million yuan ($100.5 million).
In Guangdong province, where there is a high concentration of beverage products such as juices and herbal tea that use metal cans, the market of bacteria-free paper packing has been squeezed.
Song Liang, a dairy industry analyst, said: "With the rapid growth of domestic companies, the market competition of China's packaging market has been more fierce. TetraPak is trying to shift part of its business to the market in northern China."
"The market of beverages has become more fragmented in China, and there has been a stronger demand of unique and innovative packing products. This trend has also laid the foundation for the development of domestic enterprises."
In fact, some leading domestic paper-packing enterprises have emerged with lower costs and diversified products. In order to lower the costs and risks, dairy and beverage makers usually prefer to cooperate with multiple packing manufacturers.
For example, Inner Mongolia-based dairy producer Mengniu now cooperates with TetraPak, Beijing-based Greatview Aseptic Packaging Co Ltd, a manufacturer of plastic wrap and food packaging, and SIG Combibloc Group AG, a German carton packaging and filling machines company.
Currently, Greatview holds about 13 percent of the market share in China, according to the estimate of the company. Its customers include international top dairy and beverage producers, such as Nestle SA, Danone SA and Lactalis Group, as well as domestic dairy giants Yili Group and Mengniu.
Last year, Greatview achieved sales revenues of 2.17 billion yuan. Of that total, 277 million yuan of sales come from non-carbonated beverage producers, and that part of revenues jumped 29 percent year-on-year.
Greatview will soon start to operate its second production line in its overseas factory in Germany, and the capability is expected to double the original. Greatview said it plans to further expand its international footprint, and grab business opportunities provided by the Belt and Road Initiative.