Pakistan eager to proceed with Belt and Road projects
Pakistan wants to work with China to ensure the earliest implementation of the Gwadar Port project, as it is "extremely important" for people of that area as well as for the entire country, Pakistani Foreign Secretary Tehmina Janjua said on Tuesday.
"It should be a symbol that indicates the close relationship between our two countries, as well as how this relationship affects the people of Pakistan," she told China Daily.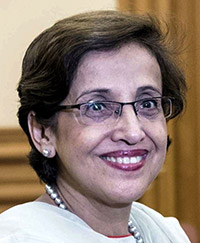 Tehmina Janjua, Pakistan's foreign secretary. [Photo provided to China Daily]
Janjua is on her first visit to China, from Monday to Wednesday, after becoming foreign secretary in March.
"China and Pakistan are not only iron brothers as President Xi Jinping has said, but also steel sisters," she said.
As an active supporter of the Belt and Road Initiative, Pakistan has completed several early projects under the China-Pakistan Economic Corridor, a flagship project of Belt and Road cooperation between the two countries.
Last year, $1.8 billion from China, Pakistan's largest investor, was used to implement many CPEC projects, especially in energy.
"CPEC has greatly helped us move forward on fulfilling the requirements of Pakistan," she said, adding that the Sahiwal Power Plant has produced 1,300 megawatts of electricity to cover areas that traditionally have suffered energy deficiency.
According to Janjua, Gwadar Port is a CPEC project of strategic and national interest and is moving ahead quickly.
"We want to work with China to ensure that the earliest implementation of that project can be completed. It is extremely important not only for the people of that area, but also for the entire country and region," she said.
According to the foreign secretary, Pakistan will prove that it has the full capability and human resources to implement these projects with the help of our Chinese friends and partners.
Speaking of expectations for the future China-Pakistan relationship, Janjua said she hopes the bilateral ties will be increasingly stronger, and "both of us will stand by each other at all times and situations".