More convenience, less crime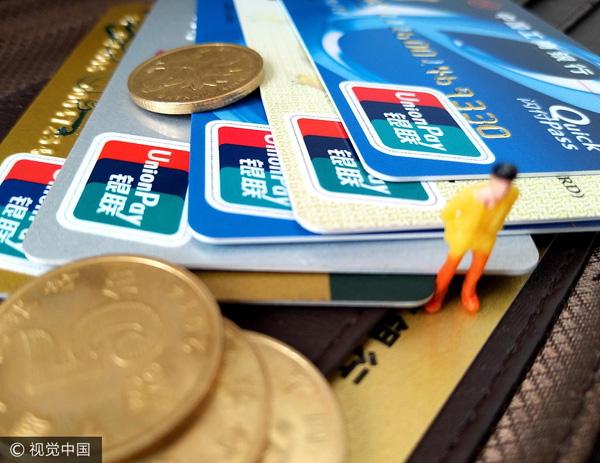 Various players in the payments industry are calling for industry-wide cooperation to reduce fraud and improve consumer trust, as the sector undergoes a huge transformation due to fast-changing technology.
Today, people are living in a connected world where almost any device can be used for payment acceptance, and increasingly, payment origination. There are around 10 billion internet-connected devices in the world this year and that number is expected to double by 2020. The boom in that market means consumers are facing lots more points of exposure when making payments.
Ellen Richey, vice-chairman and chief risk officer at Visa Inc, said: "Twenty billion connected devices would bring more potential problems for us to worry about as a payments industry, if we don't take pains to make sure these things are all properly secured."
The industry has seen a significant trend of growth in mobile payments. In the first quarter of 2017, the value of mobile payment transactions via financial institutions in China's banking sector grew 16.35 percent, quarter-on-quarter, to 60.65 trillion yuan ($9 trillion).
During the same period, the value of web-based payment transactions via non-bank institutions rose by 42.47 percent to 26.47 trillion yuan.
And that means opportunities for fraud. Globally in 2016, about 57 percent of the reported fraud cases took place during a transaction in which the consumer's card was not physically present, up from 35 percent of fraud cases in 2006.
Richey added that although disruption by fintech "may have ignited the digital age and the digital transformation, it's really trust that builds the payment system, and it's essential for all of us to collaborate together so that we can maintain that trust for the future payments."
Chen Liren, vice-president of Samsung's content strategy department in China, said each player in the payments industry has his own advantages. For instance, with the approval of the customers, mobile phone manufacturers could share data with payment service providers to enhance their risk control systems.
He said he hopes that each player will "do his part and work together openly".
Yang Tao, assistant director of the Institute of Finance and Banking at the Chinese Academy of Social Sciences, agreed with Chen by saying: "The more open the payments industry is, the better. Businesses should learn to share and achieve a win-win situation, rather than leaving others no chance to succeed."
He noted that risks and convenience associated with payments are like the two ends of a seesaw.
"At the current stage of Chinese economy, industry players should pay a bit more attention to payments security and avoid sacrificing security too much for convenience," he said, adding that long-term institutional construction is needed for regulators to strike a balance between the two.